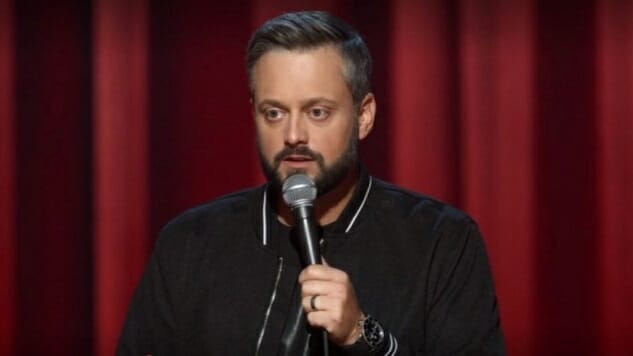 Nate Bargatze's new Netflix special, The Tennessee Kid, brings with it a proportional helping of the fidgety energy that made his episode of Netflix's The Standups so enjoyable. It's a special filled with quiet, shifty confrontations with authority, all of which leave Bargatze displaying the nervous confusion of a smart kid who knows what the adult in the room is saying doesn't make sense, but also doesn't know if it's worth it to correct them. When Bargatze is told a clerical error with JetBlue would require his birth certificate to solve, he's simply left to frown and say "I thought I was the proof of my birth."
It's this disbelieving attitude that makes Bargatze an extremely agreeable presence, especially since he doesn't put the kind of spin on the ball that would turn the approach sour or smarmy. Even in a bit where he tries to reassure us that we shouldn't need to worry about climate change given the state of every other planet in the solar system, he appreciates the value of sincerity. "It's unbelievable," he says of the other planets. "They're nowhere right now."
This all makes The Tennessee Kid a real leisurely Sunday Brunch of a special. When Bargatze announces that he's close to wrapping things up, you check your watch, certain that this can't be true. Bargatze tells stories deliberately but at an extremely steady pace, essentially blitzing through bits on his father trying to incorporate his comedy into his own magic act ("when you do comedy in front of people not expecting comedy, it doesn't sound like comedy. It sounds like a mean speech.") or accidentally being forced to attend a Vanderbilt game three hours early.
Though The Tennessee Kid builds its many merits around the success of Bargatze's half-hour, it's also the source of the special's main weakness—a good portion of the final third is dedicated to giving the audience postmortem details on stories they had enjoyed a few years prior to this. Unfortunately, in the process, the rhythms of the show are interrupted, and Bargatze's considerable ability to bake caveats to his own material into the pie are tested. But Bargatze is too talented a comedian to not stick the landing by the time it counts, and even viewers who begin this segment feeling out of the loop should leave satisfied. It's just one of those things he can pull off.
---
The Tennessee Kid is now streaming on Netflix.
Graham Techler is a New York-based writer and comedian. You'd be doing him a real solid by following him on Twitter @gr8h8m_t3chl3r or on Instagram @obvious_new_yorker. A real solid.