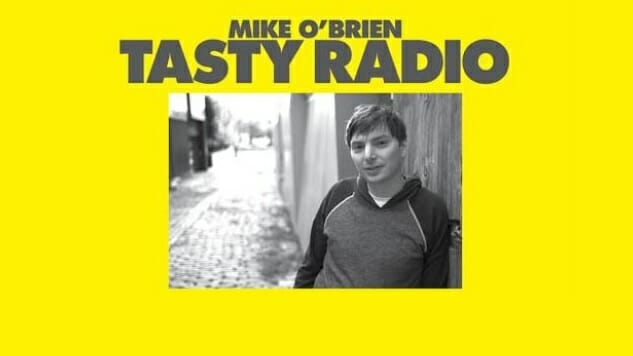 Somehow the most daring comedy album released today might not be Eugene Mirman's nine-volume epic. Mike O'Brien, who you should recognize from his great work on Saturday Night Live and the 7 Minutes in Heaven webseries, released Tasty Radio today. It's a sketch comedy album in the vein of the Firesign Theater or Adam Sandler's They're All Going to Laugh at You, released in an era where sketch comedy albums are almost unheard of. Recorded over a long period of time, Tasty Radio features guest appearances from a bevy of top comedy talent, including pretty much every SNL cast member you can think of from the last several seasons. It clearly took a lot of work and time to assemble, and O'Brien was able to guide the contributions of all these different talents into one of the best comedy releases of the year.
Tasty Radio is defined by the genial absurdity that O'Brien's SNL videos are known for. Framed as a trip down the radio dial, O'Brien and his collaborators avoid easy jokes even when tackling easy subjects, like obnoxious morning DJs, the intentional brainlessness of sports talk radio and the casual sexism of beer ads. They approach from unexpected angles and reach heights that are often ridiculous but still rooted in the original concept. The absurdity never feels too random or like an easy way out.
There's also a fundamental underlying decency to it. Even when it jokes about sex, as in the lead single "Fun Girls," it's not about being shocking or vulgar but being thoughtfully weird. The joke in "Fun Girls" isn't about phone sex itself, or the depraved situations those conversations can lead to (something you'd maybe expect if this was on a Sandler album), but about turning that scenario into something increasingly surreal and non-sexual and exploring how the horny caller responds to it. When Scarlett Johansson reads the Bible in a cartoonishly sexy voice (in the aptly named sketch "Sexy Bible"), O'Brien is both commenting on how that cartoonish version of sexuality is so thoroughly entrenched in advertising and culture today, but also acknowledging how inherently funny it is to hear Scarlett Johnasson sexily read Old Testament passages.
Like that Sandler record I've mentioned, Tasty Radio should be embraced by a nation full of teenagers. It should be required listening while driving to high school or experimenting with your first beers with friends on weekends. Its inspired absurdity should appeal to anybody who likes sketch comedy, no matter the age.
Garrett Martin edits Paste's comedy and games sections.