Watch the First Trailer for Michelle Wolf's Netflix Talk Show
Photo courtesy of Getty Images
Comedy
News
Michelle Wolf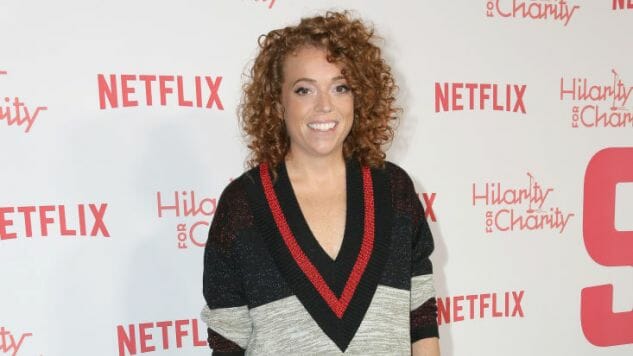 Michelle Wolf's hosting the White House Correspondents' Dinner, like, right now, so what better time could there be to release the first ad for her upcoming Netflix show? Uh, none. There is no better time. That's what we're trying to say, here. Netflix: they know how to do things.
So here it is, fresh from Netflix: the first trailer for The Break with Michelle Wolf, which premieres on Sunday, May 27. It's going to be one of those Netflix shows that has a new episode every week, instead of dumping everything on top of you at once. Netflix is calling it a "variety/sketch" show, and promises that it'll "take a break from the seriousness of today's late night comedy." Perhaps, despite her past on The Daily Show and the regular political commentary in her stand-up, Wolf won't be emphasizing current affairs and breaking news on her show. It's not like there aren't already seven or eight or infinite other comedy shows already covering that turf, so maybe this'll be a nice change of pace, no matter how great Wolf's political comedy is.
Take a look below and get your queue ready for May 27.
Wait, I just realized that I haven't actually taken a look at my Netflix queue in probably six years at this point. When's the last time you used your queue? I'm pretty sure it's still on there—if I scroll far enough down on the main Netflix screen it eventually pops up, under categories like "Witty Serial Killer Docudramas" and "Gritty Bass Fishing Comedies." I bet if I looked at it today it'd be a fairly informative relic of not just what I wanted to watch back in 2010, but what things I wanted to watch in 2010 that are somehow still available on Netflix. Since, y'know, today's Netflix looks very little like the Netflix we first invited into our homes all those years ago. Shit, is it too soon for Netflix nostalgia? I'm gonna thinkpiece on that for a bit and get back to y'all soon. Meanwhile let's all bring the queue back by adding The Break with Michelle Wolf to it right this very second. It's a movement whose time has come.