Watch Metallica Play a Happier Version of "Enter Sandman" with Toy Instruments, Jimmy Fallon
Images via NBC/YouTube
Comedy
Video
Metallica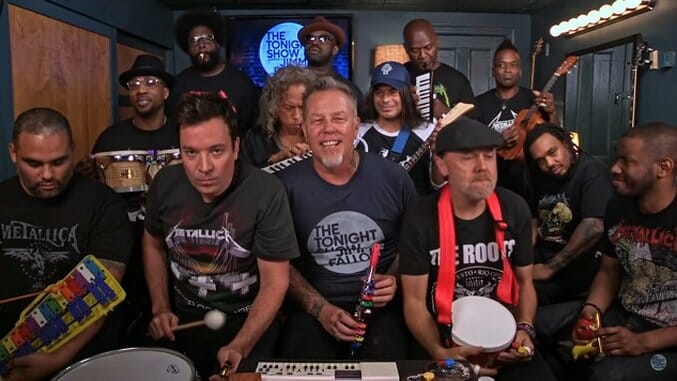 Metallica are still as badass as you remember them being. Well, maybe not quite. The band joined Jimmy Fallon and The Roots for a performance of their 1991 hit "Enter Sandman," this time with children's instruments.
Despite the obviously joyous switch from over-driven guitars to melodicas, the song still manages to retain some of its menace. The whole band seemed to be really into the affair, and the performance certainly looks like a lot of fun. This isn't the first time Fallon has redone a popular song with kiddy instruments—one of our personal favorites is Adele's "Hello," but there are plenty to choose from.
Metallica was on The Tonight Show promoting their forthcoming LP Hardwired…to Self Destruct. The album, which will be the band's 10th, is set to be released on Nov. 18. The event will be marked by Blackened Friday, an event which will allow fans at independent record stores across the country to win limited-edition prizes like vinyl slip mats and posters. The grand prize winner will receive the album in a variety of formats, including a box set and a test press record.
Check out the full video above.