Matt Groening Bringing New Animated Comedy-Fantasy Series Disenchantment to Netflix
Photo by Jason Merritt/Getty
Comedy
News
Matt Groening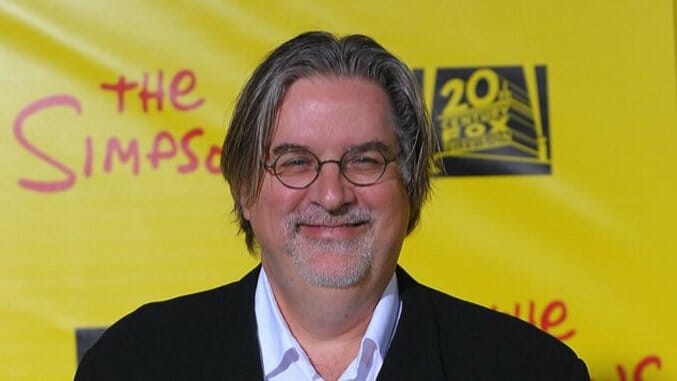 The mastermind behind The Simpsons is back at it. Matt Groening's Disenchantment, an animated comedy-fantasy series set in the medieval kingdom of Dreamland, has been green-lit for two 10-episode seasons by Netflix and features an impressive voice cast.
According to Groening, "Disenchantment will be about life and death, love and sex and how to keep laughing in a world full of suffering and idiots, despite what the elders and wizards and other jerks tell you." So, basically, the show will be about surviving in the "alt-right" era, minus the wizards.
Disenchantment will star Broad City star Abbi Jacobson as Bean, a young princess with a knack for having a good time. Bean's elf companion, Elfo, will be voiced by seasoned comedy player Nat Faxon, and her "personal demon," Luci, will be voiced by Eric Andre. The trio will face a plethora of medieval creatures, including "ogres, sprites, harpies, imps, trolls, walruses and lots of human fools."
Groening's other major animated endeavor is Futurama, which gained quite a cult following during its 14 years on the air. With Groening's mind behind it, Disenchantment is a good bet to perform just as well. Disenchantment's voice cast includes two Futurama veterans in John DiMaggio and Billy West, as well as Maurice LaMarche, Tress MacNeille, David Herman, Matt Berry, Jeny Batten, Rich Fulcher, Noel Fielding and Lucy Montgomery.
As the streaming wars rage on, it's hard not to see this as an attempt by Netflix to keep up with Hulu. The latter streaming service recently added all of Futurama, Bob's Burgers and a bevy of other animated hits to its library, fortifying their reputation as the go-to platform for animated series. Although Netflix has some catching up to do to rival Hulu in this department, Disenchantment figures to be a hell of a step forward, and Netflix is more successful than ever either way.
Disenchantment will premiere on Netflix 10 episodes at a time, starting in 2018. Read our list of the 20 best Simpson's characters of all time here.