WWE's Big E Tackles a New Challenge: Voicing a Cartoon Wolf on Adult Swim's Lazor Wulf
Main photo courtesy of WWE
Comedy
Features
Lazor Wulf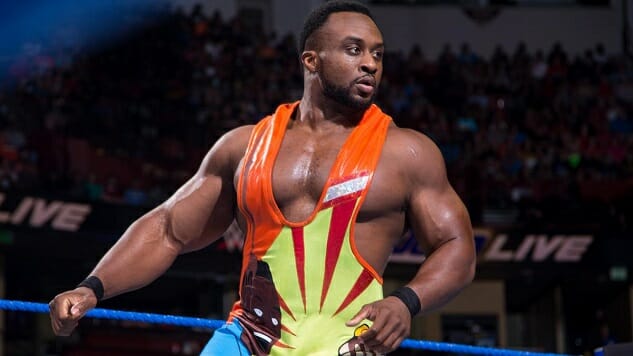 There's a first for everything. I've never interviewed the voice of a cartoon character while they were in the middle of rehabbing a torn ACL before. The typical voice actor probably doesn't tear a lot of ligaments while doing their job, but that's exactly what happened to Ettore Ewen, the voice of Canon Wulf on Adult Swim's new show Lazor Wulf, which wraps up its first season this weekend. Ewen's not a typical voice actor, though. He's better known as Big E, a star wrestler in World Wrestling Entertainment. Last month, just two nights after WrestleMania, he took a flying crossbody on an awkward footing and completely junked his left knee, leading to surgery and extensive rehab. It was during one of those sessions that I caught up with Big E to talk about his role on Lazor Wulf.
It wasn't a surprise for wrestling fans when Big E was announced as one of the lead voices in an Adult Swim show. As a member of the unclassifiable tag team trio the New Day, Big E has basically been a living cartoon for the last few years. The most surprising thing about him getting a job on an Adult Swim show is that it's not a show entirely about the New Day. With their love of bright, primary colors, their obsession with anime and videogames, and their deep, abiding love for pancakes and unicorns, the New Day already feel like a real-life cartoon. And in an industry that still relies on stereotypes too much, Big E and his partners Kofi Kingston and Xavier Woods tear apart every preconception about what Black athletes should look and act like. WWE shows can feel overly scripted, nitpicked and fussed over to the point of lifelessness, but the New Day can liven up even the most moribund wrestling show with their infectious attitude.
Big E's positivity might've played a part in him landing this Adult Swim gig. "I got really lucky," he says. "They just decided to approach WWE and ask for me. It was very flattering, I felt like the Belle of the Ball. It was nice to be sought out. [Voice-acting] is something I've wanted to do for a while and being part of something like this—especially with Henry [Bonsu] who was behind China, IL., which I loved, and also Carl Jones, who was behind Boondocks, which was my favorite animated series of all time. It's pretty cool."
Based on a series of webcomics he started making in 2013, Bonsu's show is an absurd look at the world we live in today, focusing on a perpetually underwhelmed wolf with a laser beam strapped to his back (and voiced by rapper Vince Staples). Lazor Wulf's friends include a yeti named King Yeti, a sweet but stupid horse named Stupid Horse, and a loud, bold wolf with a cannon on its back, named Canon Wulf. Big E voices Canon Wulf with the comically extreme confidence of a professional wrestler. It's perfect casting.
"Canon Wulf is rather brash," Big E says. "He doesn't have much of a filter, which is unlike me—the individual. It's a bit like the character I portray in WWE. I know it might surprise a lot of people, but I'm not nearly that obnoxious and extroverted in my day to day life. I feel like he's a magnetic personality, sometimes divisive, says whatever's on his mind, and I dig that."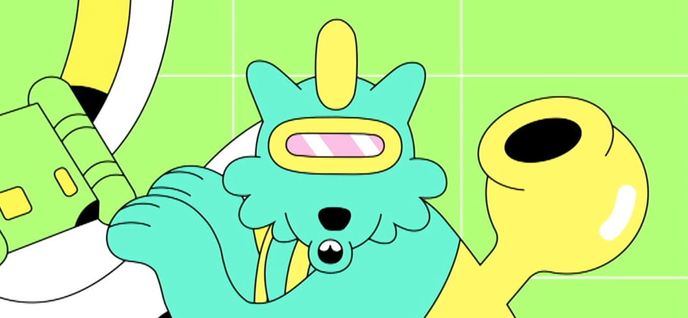 As much as he loves Canon Wulf and the freedom he gets to ad lib on Lazor Wulf, the thing Big E seems to like most about the show is getting out from under WWE's PG rating. "They let me cuss, which is tremendous," he says. "That's the biggest difference. We have a PG product in WWE and with Lazor Wulf I just let the expletives fly. It's very free, honestly. That part I really enjoy."
The differences between cutting a wrestling promo and voicing a cannon-armed wolf in a cartoon are more substantial than just being able to use bad words, though. Wrestling is a full-body performance, whereas on Lazor Wulf Big E had to learn how to work entirely without that body.
"I have to emote with just my voice," he says. "At WWE I enjoy doing so much physical comedy and stuff with my eyes, being expressive, but with Lazor Wulf you have to get across those emotions with just your voice (and obviously the animators who do a tremendous job on that end). But doing my part, just vocally, that's a little unique for me and different and that I really enjoy."
Big E also enjoyed getting to ad lib some of his lines while recording them in a Los Angeles studio with Bonsu and Jones. It's something he has a little bit of experience with from wrestling, more than the typical modern day WWE wrestler. WWE typically wants its performers to stick closely to their scripts, but due to their popularity and unique gimmick, the New Day has a bit more freedom when it comes to their promos than most wrestlers today. "There's some trust we've been able to earn over the last several years. It definitely didn't come overnight," Big E explains. "That's been really a lot of fun, to develop that trust and add our own input. There's a lot, from Twitter and social media just in general on a day-to-day basis, that we find funny and want to put into scripts and our promos.
"I think a lot of times WWE [tries] to throw in stuff from pop culture and we've found a lot of those references were dated. We wanted to be kind of the talent that was up to date and talking about the same things that people in their 20s and 30s were talking about at work or wherever, so we've been able to throw a lot of current stuff into our promos over the last several years."
Big E is in no rush to leave wrestling—his main priority is getting that knee back in shape so he can return to the ring. Still, with the pipeline from WWE main events to major Hollywood motion pictures busier than ever before, he knows Lazor Wulf could be the start of the next phase of his career. And although he wouldn't say no to a career in movies, there's one project that bridges both of his current worlds that he definitely wants to pursue: a New Day cartoon.
"The idea we've talked about, I kind of want to do something like Mike Tyson Mysteries, except it's the New Day who solves mysteries, but they've already got that on lock right now. We'd love to do something. We have accomplished enough on TV that we'd be able to turn into an animated show, like the time traveling machine, something we've done on TV that's ridiculous and cartoonish. We could throw in the unicorns, imagine unicorns coming to life or some of the owl stuff that we turned into a shirt, with the "Whos." There's a lot of cartoonish nonsense that we've done over the last few years and I think we'd work great as cartoon characters and I'd love to do something a little bit edgy as well.
"One of the things I've enjoyed in the New Day with Kofi and Woods is being able to have promos that teeter on the edge of PG, PG-13, almost R, such as the thinly veiled crotch jokes. Those are things that would work well in a cartoon and we could make it kid-friendly and also do something adult-oriented."
For now, though, Big E's focus is getting that knee back in shape. Hopefully his return to the ring won't be too far away, and hopefully the New Day sticks together for years to come without the kind of violent split that tends to happen to wrestling tag teams. Canon Wulf would never turn on Lazor Wulf, after all.
---
Lazor Wulf's season finale airs May 3 at 11 p.m. on Adult Swim.
Garrett Martin edits Paste's comedy and games sections. He's on Twitter @grmartin.