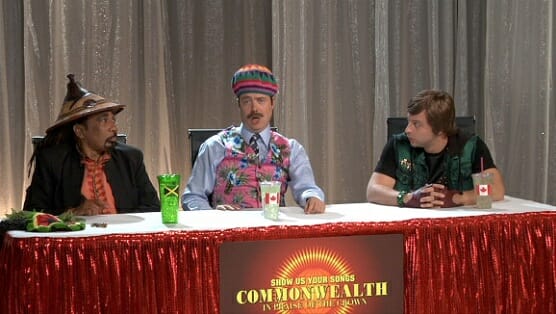 Nick Kroll has strangely become the least interesting part of a show that has his name on it. He's in every scene, taking on a variety of different guises (this week it was the Philly-based pawn shop owner Don, the Canadian pop star/TV star Bryan La Croix, and Australian TV auteur R. Schrift, among them), but he's doing so little with each of these caricatures that the folks that end up shining on episodes like this one are his other cast members and guest stars.
It was the latter that took away the spotlight from Kroll this week. Through the skein of an American Idol-type song contest, we got to get some delightful cameos from Bo Burnham, and Kristen Schaal and Kurt Braunohler doing a brilliant Die Antwoord parody. There were also great appearances by Paul F. Tompkins as a confusing weather man/lotto number reader and Brent Weinbach as the villain in a groaningly bad fake TV show about a half man/half machine retrofitted with '90s era technology.
As for his regular cast, it was Jon Daly who stole the show away from his buddy Kroll. There are few things funnier on the show than Daly in the role of stodgy, oft-put upon Canadian actor Gene Creemers, and thankfully there was a lot of him in the show with the repeated Show Us Your Songs segments. But he's just as great as the other "star" of Pawnsylvania, particularly going up against the hosts of Too Much Tuna as he did in the first segment of the episode and then losing his shit when he lost the corn hole tourney in his back yard. Daly does apoplectic, befuddled, and stuffy oh so well. Too bad there's already a Daily Show on Comedy Central, eh?
I don't doubt Kroll's abilities as a comic actor. He's been proving that in other parts of the show, and I think he's one of the best things about The League, but he needs to be forced out of this relative comfort zone of his own creation if he's going to truly be able to exhibit his many gifts as a performer. Those opportunities could be right around the corner. We just have to wade through a couple more episodes of Kroll Show before that can happen.
Robert Ham is a Portland-based freelance writer and regular contributor to Paste. You can follow him on Twitter.