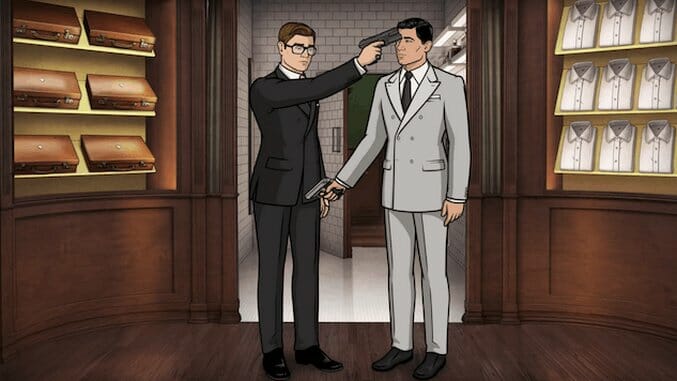 For nearly a decade, FXX's Archer series has relentlessly mocked classic spy films like James Bond. The titular main character is a drunken, conceited douchebag who also, inexplicably, happens to be both highly effective and virtually indestructible. Basically, Archer is the result of James Bond filtered through all of America's worst, most hilarious stereotypes.
By contrast, the Kingsman films don't so much try to reinvent or mock the James Bond legacy, as much as they update it for a newer generation. The films are violent, funny and irreverent to a fault. They still work more as an homage to Bond's influence than outright subversion.
As we learned in the most recent trailer for the forthcoming Kingsman: The Golden Circle film, a great deal of the plot revolves around the British Kingsman organization heading over to America to team up with their yankee counterparts: Statesman. While both organizations appear to have a certain affinity for men's fashion—though their opinions on cowboy hats differ—it's likely that each group will have a different way of going about the business of spycraft.
For a teaser of what we may expect, 20th Century Fox yesterday released a hilarious short animation sketch throwing Kingsman's Eggsy into a brief altercation with Archer. As always, Archer teeters between extreme prowess—he manages to find the Kingsman secret room and is unfazed by a gun being drawn on him—and utter incompetence. In short, it's everything you could ever want from such a meeting.
Check out the hilarious clip above and don't forget to check out the Kingsman: The Golden Circle trailer right here if you haven't already.