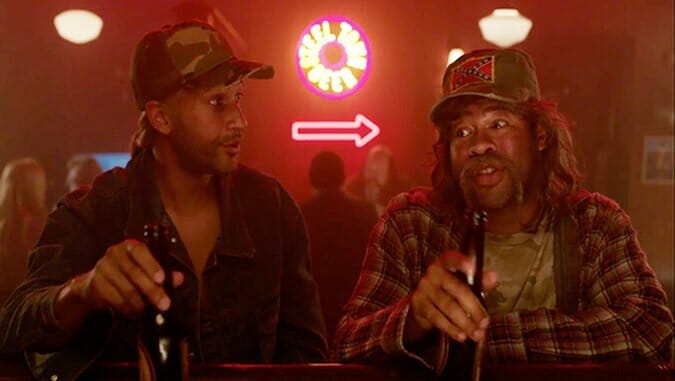 We should go ahead and establish that Key & Peele is the best sketch comedy program on television. It's damn well near irrefutable, with its tight writing, glossy presentation, and outstanding performances that have pleased audiences and critics alike, not to mention its stars won a Peabody Award earlier this year. But even more than its comedic chops, and surpassing its stunning presentation or guest appearances, is the extreme relevancy that it offers. With a knack for poking fun at the constructions of modern life and culture, Jordan Peele and Keegan-Michael Key's sketch comedy occasionally reflects, in its own, subdued way, a didacticism popularized by fiery comedians like Pryor, Carlin and Chapelle. It's mellowed, for sure, but the political slant that hits a chord with Key & Peele's audience base—and makes it essential viewing—is back in full-swing in season four's premiere episode.
Anticipation for the fourth season was heightened when Comedy Central uploaded two teasers from the premiere earlier this month. There's "Gay Wedding Advice," for starters, in which Peele's character invites Gary (Key), a homosexual coworker, before his family to discuss "gay wedding" etiquette (because, as Peele's character explains, "Cousin Delroy is getting married…to a man…which is crazy!). The bit offers particularly outrageous writing, with marvelously cringeworthy and non-PC questions regarding dress codes, fake priests and presents ("Where do you get the Euros to buy gay gifts?"). There are many famous faces as family members, as well, including Romany Malco of The 40 Year Old Virgin and The Wire's Lance Riddick.
The latter teaser, "Alien Imposters," follows Key and Peele's characters as they navigate a post-alien abduction cityscape. Toting large guns as defense against killer extraterrestrials, the pair are greeted by several "survivors" whose statuses as human or predator are determined using questions that hit on racial prejudices or stereotypes. "What do you think of the police?" Key's character calls out to a black man. "I loved their third album!" he responds. The men aim their weapons at the man, knowing unequivocally that he is an alien. It's a sketch that serves punchline after punchline (and ends with a comically brutal twist).
But it's hard to pick highlights when nearly every sketch invites genuine laughter. Peele reprises his role as the Commander-in-Chief in a particularly funny bit about Barack Obama's varying interactions with black and white people, respectively. Later, in a particularly poignant scene, Key plays a viciously sinister pop sensation who promotes messages of "Girl Power" as a thin guise to make girls think that "being overly sexual and being strong is the same thing." Not to be overlooked is a vignette where redneck stereotypes are subverted, and two good old boys share raucous conversation as intelligent and casual humanitarians. The list goes on and on, until the final credits begin to roll.
Although the duos knack for sketch comedy remains, a few aspects of the show have been updated. This was referenced by Peele in a recent tweet, but don't worry: nothing has changed that will leave fans feeling morose or nostalgic. The most obvious change is to the opening sequence, which now parodies True Detective's southern gothic intro (complete with homages to characters from Key & Peele's first three seasons). Also absent are the pair's interspersed, live-to-tape stand up routines. Instead, Key and Peele share banter from inside a vintage car, in footage that acts as an anchor to the vignettes that surround them.
Regardless, the most vital aspects of the show are in tact and thriving. There is still that Key and Peele je ne sais quoi, a brilliance that is derived, no doubt, from a killer writers' room, two wickedly funny performers and a comedic sensibility that is, at times, both high and low brow—and often (but not always) contingent upon popular culture and politics.
All things considered, if this episode is any indication of things to come, season four is Key & Peele at its finest. It goes without saying that we're in for one hell of a season.