The Funniest Tweets About Kevin Spacey's Unhinged Christmas Eve Video
Screen cap from YouTube
Comedy
Lists
kevin spacey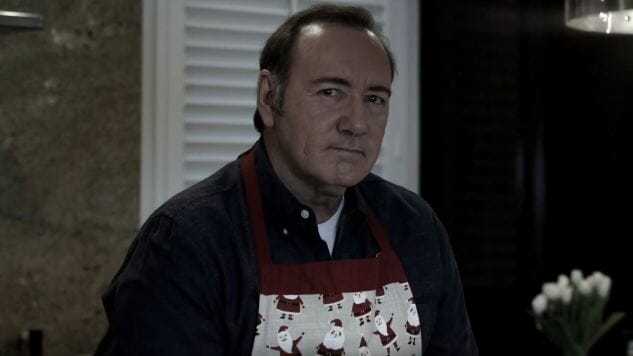 I wasn't going to do any work today. It's Christmas Eve. But then accused sexual offender Kevin Spacey had to reemerge from the hole he's been buried in for the last 13 months and do something genuinely unhinged and inexplicable.
Kevin Spacey, who has been accused of decades of sexual abuse and misconduct by numerous men over the last year, including cases where the victim was still a child, decided Christmas Eve was a good time to return to the public eye. He decided the best way to do so was to release a creepy, poorly made video where, in the guise of his House of Cards character Frank Underwood, he insists we need him back. He decided to publish this video on YouTube and share it on his social media accounts at almost the same exact time that Massachusetts announced it will be charging him with felony sexual assault for molesting an 18-year-old in Nantucket in 2016. It makes absolutely no sense on any level whatsoever, but then if Spacey had any sense at all he never would've done any of the abusive and illegal stuff he's done over the years.
If you haven't seen the video, don't watch it. If you absolutely have to see it for yourself, though, here's an embed of his tweet below. It's a huge pile-up of some of the worst stuff on Earth: Kevin Spacey, Kevin Spacey's terrible southern accent, Kevin Spacey's terrible character from the always terrible show House of Cards, a rich white criminal refusing to acknowledge his crimes, an attempt at gaslighting not just an individual but an entire country into thinking it can't live without a creep that it told to go the fuck away, etc. It sucks, and Kevin Spacey sucks, and I can't believe I have to write this on Christmas Eve, of all days.
Let Me Be Frank https://t.co/OzVGsX6Xbz

— Kevin Spacey (@KevinSpacey) December 24, 2018
Let me be frank: this dude needs to go the fuck away forever.
There's no upside to this. I'm not going to say "BUT HEY at least the tweets were funny." I mean, a lot of them were, and I've embedded the best of those below. Yeah, prime dunks on twitter are nice and all, but still, fuck Kevin Spacey for all the horrible shit that he's done and all the horrible shit that he might still do and also yes for making this embarrassing, cringeworthy video.
Okay, tweets now.
(Kevin Spacey is meeting with the worst PR company of all time)

PR flack: "So here's our idea: we film you, in character as Frank Underwood, in a poorly-lit kitchen, reciting a ton of skin-crawling dialogue, and then we release the clip on Christmas Eve."

Spacey: "Perfect"

— Scott Wampler (@ScottWamplerBMD) December 24, 2018
I guess Kevin Spacey won't be hosting the Oscars

— Ira (@ira) December 24, 2018
So you're all saying I should probably take "Director and Co-Writer, Kevin Spacey's Weird Christmas Eve YouTube Video" off my resume

— Patrick Monahan (@pattymo) December 24, 2018
after watching that Kevin Spacey video I need to cleanse my palette with something less unhinged and creepy like The Human Centipede

— Brandy Jensen (@BrandyLJensen) December 24, 2018
Not sure doing a video in character as the guy from Se7en is really going to help Kevin Spacey

— God Rest Ye! Merry Gentlemen (@pixelatedboat) December 24, 2018
What's the over/under on Bryan Singer being the one who directed that Kevin Spacey video?

— Downtown Griffy Newmz (@GriffLightning) December 24, 2018
if you've ever wondered what those nonsense matthew mcconaghey lincoln commercials would sound like if voiced by jeff sessions in a festive housefrock, boy does kevin spacey have the video for you

— KT NELSON (@KrangTNelson) December 24, 2018
i made it 22 seconds into the kevin spacey video BEAT THAT

— blaine capatch (@blainecapatch) December 24, 2018
Kind of fucked up of Kevin Spacey to say something uncomfortable, pathetic and weird today. It's Christmas Eve and that's people's relatives' job

— Chase Mitchell (@ChaseMit) December 24, 2018
I recommend watching Kevin Spacey's upsetting viral video where, speaking as Foghorn Leghorn, he inveighs against the sex crime charges against him. It's what a total psycho looks like

— Dan O'Sullivan (@Bro_Pair) December 24, 2018
Kevin Spacey just knocked Offset WAY down the shudder-inducing "please take me back" gesture power rankings.

— Josh Gondelman (@joshgondelman) December 24, 2018
remember when you could say "that dancing piece of trash from American Beauty" and people didn't assume you were talking about Kevin Spacey

— Al Shipley (@alshipley) December 24, 2018
when Trump tweets about the Kevin Spacey video can we all agree to throw our phones in the fucking ocean

— BenDavid Grabinski (@bdgrabinski) December 24, 2018
Kevin Spacey: I need to somehow reinvigorate my reputation was tarnished last year, how do I get people to like me again?

Nathan Fielder: I know just what to do

— Jack Walsh (@JackDivine) December 24, 2018
the Kevin Spacey video convinced me! FINALLY evidence that he is a good, normal guy. doing the vid in character? makes sense to me! telling me I want him back? not at all menacing! thankful to have a peaceful xmas. now if you'll excuse me, I'm off to get another k-pax tattoo

— Nicole Silverberg (@nsilverberg) December 24, 2018
KEVIN SPACEY: and you're sure this will help
DIRECTOR WHO LOOKS A LOT LIKE THE DISTRICT ATTORNEY WITH A FAKE MUSTACHE: absolutely. for sure

— KT NELSON (@KrangTNelson) December 24, 2018
If you're a method actor and you get fired while you're still in character, than you're stuck doing that character forever. Kevin Spacey knows how weird that video is, but there's nothing he can do about it.

— Guy Endore-Kaiser (@GuyEndoreKaiser) December 24, 2018
So unlike Kevin Spacey to inflict himself upon us without our encouragement.

— Louis Virtel (@louisvirtel) December 24, 2018
Kevin Spacey's lawyer: welp, time to take a big sip of hot coffee and log on to Twitter pic.twitter.com/1P9Pejl2M6

— Max Silvestri (@maxsilvestri) December 24, 2018
All we need now is Bill Cosby to do a Pudding Pop commercial to really fuck Christmas Eve up.

— Tony Posnanski (@tonyposnanski) December 24, 2018
There is literally no funny tweet that would get me to watch this Kevin Spacey video.

— Ken Jennings (@KenJennings) December 24, 2018
eternal sunshine but just for that kevin spacey video

— Jen Statsky (@jenstatsky) December 24, 2018
Now do one where you play Kevin Spacey and apologize for trying to fuck kids. https://t.co/uk97XYu5As

— mike mulloy (@fakemikemulloy) December 24, 2018