Submit Your Comedy Short to Be Streamed on Kevin Hart's New LOL Network
Photo by Alberto E. Rodriguez/Getty
Comedy
News
Kevin Hart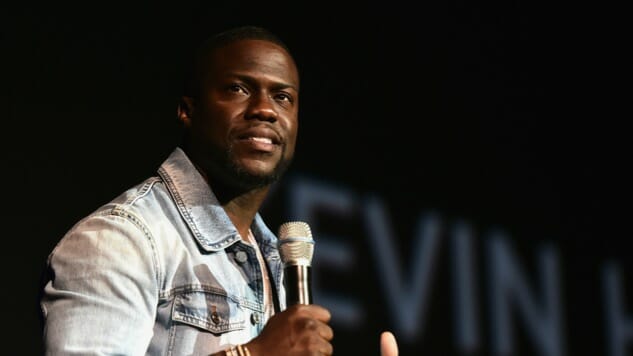 What? Did you expect the hardest working guy in comedy not to be launching a comedy streaming service this summer? Starting today, Kevin Hart and Just For Laughs are inviting filmmakers to competitively submit their own comedy short films, the best of which will be streamed on the comic's soon-to-launch LOL Network.
Laugh Out Loud Presents: Just For Laughs Eat My Shorts is a competition that aims to find the funniest new filmmakers in North America. A team of JFL and LOL "programming experts" will curate the 20 best films submitted to be streamed on LOL when it launches this summer. From there, viewers will be able to vote for the top five shorts, which will then be screened at the Just For Laughs Festival in Montreal on Thursday, July 27, where Hart himself will announce the winner. The winning team or individual will be awarded a development deal to direct another short that will be streamed exclusively on LOL.
Hart said today in a press release, "I want to create a stage for the next generation of comedic storytellers. I'm excited about partnering with Just for Laughs to find talented filmmakers and give them a platform on LOL."
Submissions can be between three and 22 minutes, and all sub-genres (mockumentary, romantic comedy, etc.) are acceptable. You can check out the full submission rules for the competition here. And get writing/shooting, budding comedy directors: The deadline is less than a month away on May 13.