Julie Klausner: The Perks of Being "Difficult"
Photo above by Mike Coppola / Getty Images
Comedy
Features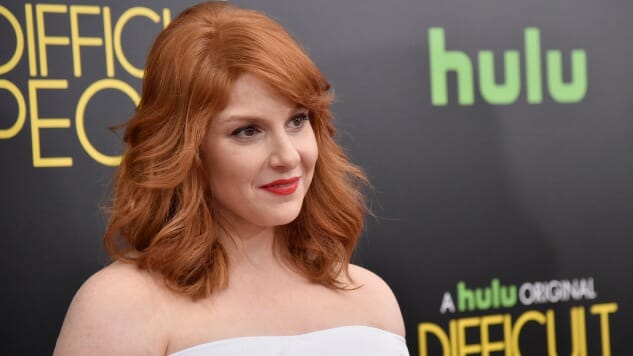 Women get called all sorts of things for being ambitious: we become leaders and get called "bossy;" we speak up in meetings and get called "aggressive;" we take a stand against oppression and get called "difficult." But multi-hyphenate talent Julie Klausner is doing her part to take that last title and turn it on its head—partially by doing all the things above, and partially by taking over the comedy world, one medium at a time.
After cutting her teeth in New York City's improv scene, the actress-podcaster-writer-producer-comedian worked a slew of gigs writing and producing on shows including Best Week Ever, The Big Gay Sketch Show and Billy on the Street. In 2008, she landed an essay in the New York Times' coveted Modern Love column, expounding on such relatable themes as love, loss and the futility of dating struggling musicians. Her first book deal, for an autobiographical memoir dubbed I Don't Care About Your Band, which highlights similar themes, soon followed.
After that, Klausner's star steadily continued to rise—in spring 2011, prompted by a tweeted suggestion from comedian Patton Oswalt that she start her own podcast, she launched How Was Your Week?, an acclaimed podcast that has Klausner doing everything from waxing philosophical about The Real Housewives franchise and Broadway theatre to interviewing comedic luminaries and Twitter celebs alike. Guests have included Ira Glass, the late Joan Rivers, Rob Delaney, Sarah Silverman and Tig Notaro. While spearheading that project, she was also contributing to publications and sites like SPIN magazine and Vulture.com, and even found time to pen a YA novel titled Art Girls Are Easy, released in 2013.
But, arguably, it's the Hulu series Difficult People that really took Klausner's career to the next level—a level she's been aiming for from the start. The second season of the show, which co-stars Klausner with her real-life BFF Billy Eichner, premieres on the streaming platform on July 12. Having her own show "has always been a dream of mine, no question," she tells me over the phone. "I always wanted to write and perform for myself, that was my goal starting out."
But with juggling a podcast, steady print and television writing gigs, plus a series of live comedy, cabaret and variety shows in the works at any given time, one could wonder how the idea for her biggest professional endeavor yet could even enter Klausner's headspace. "It was around Christmas break last year or the year before, and I knew The New York Times was going to do a piece about my podcast," she explains. "I thought, what if this piece gets me attention and eventually results in the opportunity to pitch my dream show? What would my dream show be?" With that motivation, she sat down and wrote the pilot script for exactly that. "I knew I wanted it to have a Curb Your Enthusiasm sort of feeling to it and come from my real life," she says. "The lesson, if there is one, is just to write truthfully without worrying about who you're going to sell it to—I didn't worry about whether or not it was marketable or what network would buy it. I just said, what would the show be that I'd want to make more than anything?"
The series follows embittered New Yorkers Julie and Billy (Klausner and Eichner's eponymous character personas) as they struggle to find comedic fame amid dead-end jobs and relationships. With Amy Poehler signed on as a producer, it was originally picked up by USA Network before they reportedly decided to move away from the original comedy sphere. Soon after, Hulu stepped in. The show was met with critical acclaim and featured buzzworthy guest stars including Amy Sedaris, Seth Meyers, Debbie Harry and Martin Short. For the second season, Klausner says she and her team have more room to take risks, develop storylines and play with character plots. "Time was the biggest difference between season one and season two," she says. "We got eight scripts together in like six weeks for the first season, so it was very much made on the fly. There were a lot of decisions that had to be made—we were creating what the show actually was, and figuring out what worked and what didn't."
For the upcoming season, expect guest stars like Lin-Manuel Miranda, Julianne Moore, Christian Siriano and, yes, a few Real Housewives for good measure, as well. With season two about to premiere, Klausner's shifting her focus to begin writing a pilot for Hulu with Scott King for disabled comedian and actress Shannon DeVido, who also plays comic Andrea Mumford on Difficult People.
Recently, Klausner posted a video on social media of a Difficult People ad looping on a giant screen at Chevy's in Times Square, the caption merely a sunglasses emoji face. For someone who spent years on the fringes of the industry, writing bitingly funny material for others to perform, seeing her own headlining project culminate not only into fruition, but success, is undoubtedly gratifying. "I'm just so lucky to get to be making stuff in a world that values people who make their own stuff," she says.
When I ask if she thinks there will ever come a day where people don't ask women in comedy how it feels to be a woman in comedy, Klausner doesn't skip a beat, saying, "Ask our next President Hillary Clinton—she has all the answers. She has the confidence that makes up for generations of women who have apologized after saying everything, myself included. She'll fix everything. She and the lady Ghostbusters."
---
Difficult People season two premieres July 12 on Hulu.
Caroline Cox is an editor at arts site CommonCreativ ATL, a freelance writer and the content marketing specialist at a tech startup in Atlanta, Georgia. She has contributed to publications including Nylon, VICE, The Guardian, The Daily Beast, BuzzFeed, Brooklyn Magazine, Complex, Broadly, Thrillist and Racked. Follow her on Twitter at @carolinecox because "Roses" by OutKast is about her.