Watch the Trailer for Josh Johnson's New Special Up Here Killing Myself
Photo Courtesy of Peacock
Comedy
News
Josh Johnson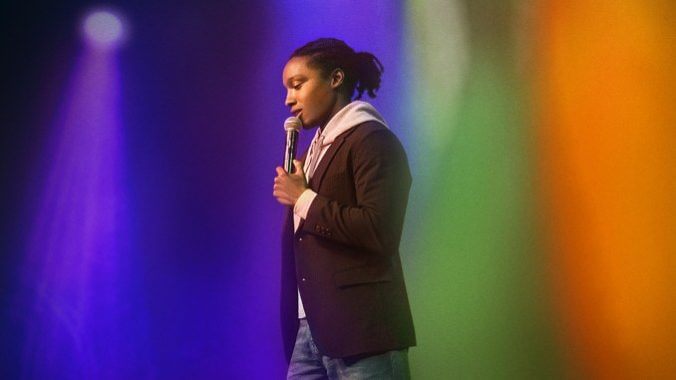 Many comedians use stand-up as a way of processing life, with the audience as a proxy therapist. Comic Josh Johnson makes this connection more direct with his upcoming Peacock special Up Here Killing Myself, turning a therapy session into an hour of comedy.
In his new project, Johnson delves into his relationship with his father and what it's like to have a stalker. The New York-based comedian also discusses growing up without money ("Poor in Louisiana somehow feels extra poor," he jokes) in the special, which was directed by Jacob Menache.
"In my session that turned into the special, we talked about family, my feelings toward money, and just random thoughts that I didn't feel like I could tell anyone else," Johnson says of Up Here Killing Myself. "The subject matter didn't immediately jump out to me as funny; in fact, some of it was hard to make jokes about. I hope the takeaway from this piece is that you're never alone. Everyone is going through something and it's important to be kind to one another because we never know what that something could be. This is my way of opening up about my own journey."
Besides his current work on The Daily Show and past stint writing on The Tonight Show Starring Jimmy Fallon, Johnson is also known for his podcasts Hold Up with Dulcé Sloan and The Josh Johnson Show with Logan Nielsen. The Emmy nominee and NAACP award-winner released the first-ever podcast album last year, Some of the Best of Vol. 1, featuring highlights from The Josh Johnson Show.
Watch the trailer for Up Here Killing Myself, which premieres on Peacock on February 17, below. Get better acquainted with Johnson by checking out Paste's 2022 interview with the comedian here.