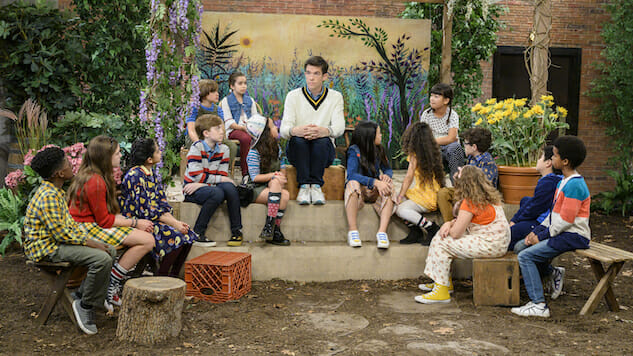 John Mulaney's Netflix special, John Mulaney & The Sack Lunch Bunch, which premieres in just five days, has a trailer.
From a man with neither children nor musical ability comes this children's musical comedy special directed by Rhys Thomas, with the goal of "recapturing the magic of that bygone television era when children sang songs about their feelings with celebrity guests." Mulaney is joined by a bunch of kids between the ages of 8-13 "who are more talented than me [Mulaney]." Celebrity guests slated to make appearances include David Byrne, Tony Award winner Andre De Shields, Natasha Lyonne, Annaleigh Ashford, Shereen Pimentel, Richard Kind and Jake Gyllenhaal.
John Mulaney & The Sack Lunch Bunch is part of multi-special deal between Netflix and Mulaney struck in spring 2018, which includes his Netflix stand-up special Kid Gorgeous.
Is it ironic or does Mulaney like doing a children's show? Who knows, but you can find out on Dec. 24. In the meantime, the trailer, which features lots of kids and aforementioned guest celebrities, but a suspicious lack of actual sack lunches, is below, along with the special's key art.