John Mulaney & the Sack Lunch Bunch Ends the Year on a High Note
Photos by Jeffrey Neira, courtesy of Netflix
Comedy
Reviews
John Mulaney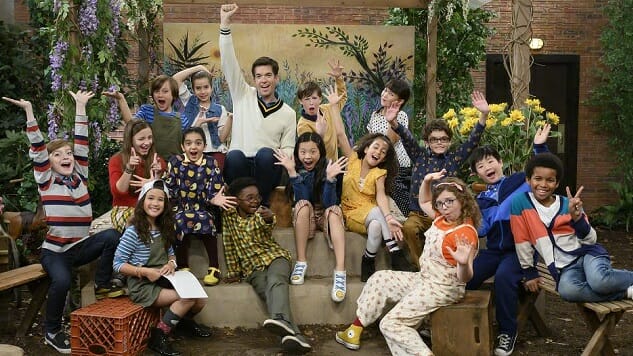 "You know who's honest—drunks and children." John Mulaney & the Sack Lunch Bunch opens with these immortal words by Erika Jayne of Real Housewives fame, which accurately sets up what you are about to watch: a kids show made by adults with kids present. But what Mulaney's nostalgia-soaked special delivers is more honest than any children's programming before it. How is it honest? Well, it's mostly about death. Like, there is a lot of talking and singing about death, which seems odd for a children's show until you remember every fairy tale you've ever seen Disney-ified.
I truly cannot emphasize enough just how much death is talked about here. It's woven into almost every segment of the special, which is impressively cram-jam full of impeccably-produced musical numbers and PBS-esque bumpers (including a spot-on recreation of Reading Rainbow's book reviews highlighting the fictional Sascha's Dad Does Drag and the Act Needs Work) featuring comedian John Mulaney and his youthful co-stars, aka the eponymous Sack Lunch Bunch. As the show opens, Sack Lunch members Ava and Cordelia ask Mulaney what the tone of the show is (aka the "million dollar question") and whether it's supposed to be ironic or not, to which the comedian states that it all depends on how the show's received. If it's bad then it's ironic, but if it's good then, yes, they all worked very hard on it. While the special is certainly not a failure, it's at least partially a (loving) satire of children's television, or rather, what adults think kids care about.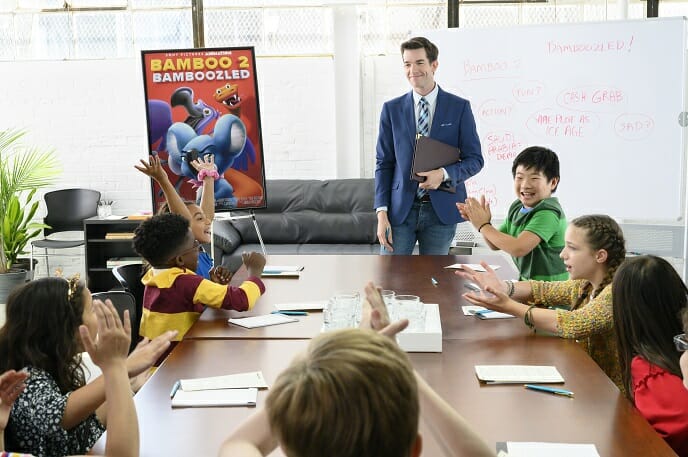 The bigger question coming into this special was how the pre-teen actors would fair sharing the screen with one of the decade's best stand-up comedians. The Sack Lunch Bunch's collective performance wholly encapsulates the special's overall aesthetic of being professional yet playful, equally balancing between adults-only and all-ages humor. The kids clearly establish themselves as talented actors and singers while still reminding viewers that they are in fact kids who just happen to also act and not mini Daniel Day Lewises who spend their Saturdays self-taping for A24 films. It's less Dakota Fanning in Uptown Girls and more Amy Poehler as Dakota Fanning on SNL's "The Dakota Fanning Show" sketch. They love Hannah Gadsby's Nanette and recognize Fran Lebowitz on-site but their dancing is just amateur enough to not feel overly-produced while their hilariously frank confessions in a series of interviews in which they are asked about their biggest fears are authentic and endearing. They keep the mood light and fun, just like a children's show should.
The show does not use the kids as props for adult-only gags, but rather clearly pays homage to the more carefree times in our lives via their individual talents. In one of the special's best moments, Mulaney conducts a focus group for a new computer-animated movie, Bamboo 2: Bamboozled, which features a ridiculous cast of A-listers. As the film's producer and the conductor of the session, Mulaney responds to the kids' frequent attempts to explain the movie back to him saying "Well I produced it so I know all the scenes but yeah go on," a line you'd expect to be delivered with pure deadpan sarcasm but instead is accompanied with a smile and intrigue. Mulaney is able to poke fun at such kid-specific behavior while also respecting it. It can often feel a little like a roast—not of the Comedy Central variety, but more like the kind that's sprinkled throughout a Best Man speech. As the host, Mulaney is cheerful but just detached enough to sell the moments of dry humor.
It is in these moments when Mulaney interacts with the Sack Lunch Bunch, usually on the charming Sacket Street Garden set, that are the show's best, from asking the kids to draw their grandparents ("for some reason") to breaking the news of the death of Ronnie the actor who dresses up as a dinosaur named Googy in the aforementioned bumpers ("I'm still surprised those are supposed to be funny"). Unfortunately, the show is noticeably light on these bits while being a tad too heavy on the songs. While André De Shields' cautionary tale about the importance of algebra is rather catchy, the overall number of songs could have been scaled back as well as some of their individual runtimes in favor of more acting segments like the wonderful yet way-too-short Girl Talk with Richard Kind.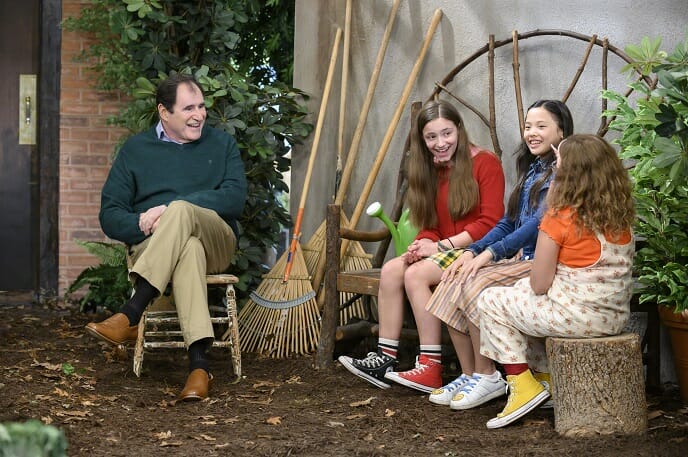 True to style, Mulaney's latest special ends on a high note (or rather a very soft one) with a life lesson from Jake Gyllenhaal's intense and frantic Mr. Music. Gyllenhaal's casting seemed odd at first, but he turns out to be the real scene-stealer of the special. It's a shame award shows tend to ignore comedies because great comedic acting is especially hard. You see just how difficult it is whenever a dramatic actor tries to take on the task, but thankfully Gyllenhaal excels as he completely commits to his zany character who struggles to prove that music can be found anywhere. Everything from his facial expressions to Mr. Music's voice is perfect for the sketch. You're not watching a dramatic actor go too big and broad in an effort to make it painfully obvious that this scene is intended to be funny, but rather Gyllenhaal fully is Mr. Music. His pinpoint delivery when snapping in and out of character is masterful in the same way Kristin Wiig or Tim Robinson fully dissolve into their respective larger-than-life characters. While technically a musical number, it's more of a blend of both song and sketch much like the very relatable and hilarious restaurant gag with Mulaney and Suri earlier in the special.
A joyous mixture of silly humor and niche references makes John Mulaney & the Sack Lunch Bunch the most entertaining Netflix original of the year. With any hope, Mulaney and crew will turn this into a new Christmas Eve tradition as we just have to see the Sack Lunch Bunch version of Street Smarts.
---
Olivia Cathcart is Paste's assistant comedy editor.