Have a Good Laugh With Jimmy Kimmel's "Mean Tweets," Avengers Edition
Image via ABC/YouTube
Comedy
News
JImmy Kimmel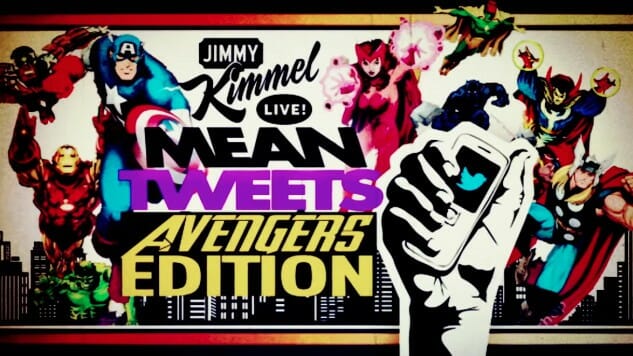 Jimmy Kimmel's "Mean Tweets" have become a hilarious routine the late-night host started doing several years ago. He's done multiple editions, including ones featuring professional athletes, musicians and even President Barack Obama. Now, his latest edition is full-on Avengers and the tweets show no mercy.
This edition stars Tom Hiddleston, Elizabeth Olsen, Chris Pratt, Chadwick Boseman, Sebastian Stan and so many more. Interestingly enough, Robert Downey Jr. seems to be left out, along with Zoe Saldana, so thankfully some of our superheroes are spared the Twitter hate. Surely, getting through Infinity War itself was difficult enough.
Some of the tweets are quite rude, such as Scarlett Johansson's, which mocks her emotional range, and Dave Bautista's, which basically devoted an entire Twitter account to hating him. Most are rather hilarious, so enjoy this clip from Kimmel's segment below, be sure to read our spoiler-free review of Avengers: Infinity War here and find out about the film's impressive box office records right here.