Jenny Slate May Have Stage Fright, But the Audience Loves Her
Photo by JoJo Whilden, courtesy of Netflix
Comedy
Reviews
Jenny Slate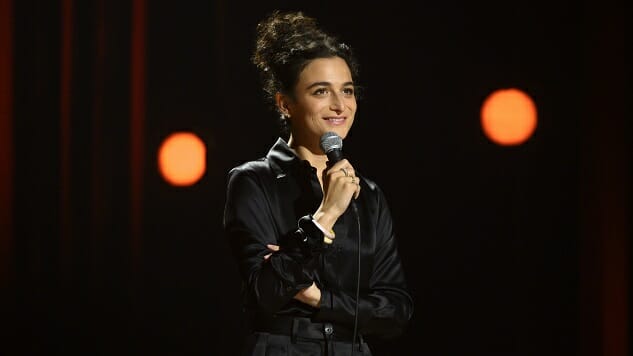 Who is Jenny Slate? Her first-ever (and long overdue) comedy special Stage Fright seeks to answer this question—not for Slate herself, who is steeped in self-awareness, but for the audience. She's not Marcel the Shell, though her viral video character draws on the same self-deprecation and whimsy that make her so appealing. She's not Mona-Lisa Saperstein from Parks and Recreation either, but the same frenzied energy powers her stand-up. Slate is reintroducing herself on her own terms, separating her identity from that of the Saturday Night Live one seasoner or one of her numerous kooky voiceover parts, and instead emerging as a vulnerable, goofy, self-sabotaging, effervescent comedian.
To facilitate this getting-to-know-you process, the hour-long special is intercut with clips of Slate showing us around her Laura Ashley-wallpapered childhood bedroom and chatting with her two sisters about Hanukkahs past, as well as grainy home videos. She explains that her parents' haunted home (which contributed to her jumpy, kid-overdosed-on-sugar demeanor) and family's shared romanticism are indelible parts of her person. For the most part, the approach fosters a comforting intimacy, but at times Slate's family members are relegated to glorified set dressing. The 37-year-old isn't just the subject, but the main narrator, which can make her relatives' presence feel superfluous.
As for the set itself, Slate commits from head to toe, which is to say that she moves like one of those inflatable advertising tubes outside of a car dealership. Her exaggerated physicality is matched only by her buzzing, infectious enthusiasm. Yes, Slate laughs at her own jokes, but you don't mind because it feels like you're listening to your funniest friend relay stories (just, you know, very casually under a spotlight). She may not exactly engage in crowd work but, as Slate puts it, she is essentially "[flirting] with 400 people." She's so damn excited to see the audience that it's difficult not to radiate that elation back at her.
The special's more serious moments emerge when Slate discusses her divorce from Dean Fleischer-Camp and the titular stage fright. She explores the aftermath of her marriage like she does most any other topic—with a silliness but also a self-deprecation that are utterly relatable, even if you've never been divorced. The tension from the topic of her stage fright is not explicitly relieved. She only addresses it in the pre-taped segments backstage, never in front of the pairs of eyes staring back at her. Slate explains that her stage fright comes from a fear that the audience won't like her, but also a worry that after all of the effort put into the show, she won't enjoy herself onstage. We can't personally speak to the latter—though she at least seems to be having a ball—but she needn't worry about the former.
In the end, Slate is dancing alone in her parents' house to Don Cherry's "Ghost Town" on an old, glowing jukebox. She takes a bow in her rainbow blanket cape, and we're inevitably left wanting more.
---
Clare Martin writes about comedy, music and more for Paste.