Netflix Reneges on Inside Job Renewal, Cancels Show
Photo courtesy of Netflix
Comedy
News
Inside Job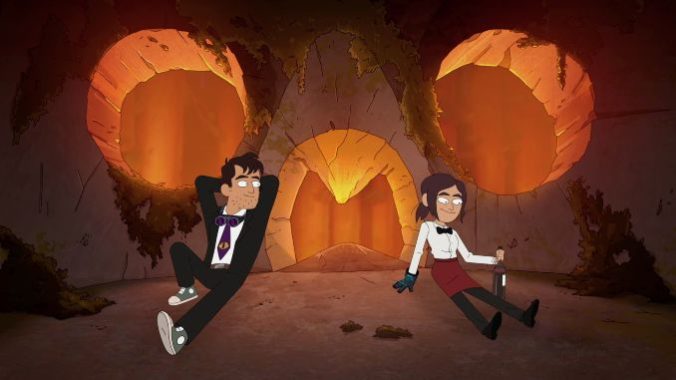 Apparently renewals mean nothing these days.
On January 8, Inside Job creator Shion Takeuchi announced via Twitter that Netflix had canceled the animated comedy. Just seven months earlier, the streamer had renewed the show for a second season.
Part 2 of Inside Job's first season was only released in November 2022. While it wasn't perfect, the comedy—which follows the misadventures of Reagan (Lizzy Caplan) at the shadowy Cognito Inc.—showed much promise. The latest run of eight episodes introduced Reagan's love interest, Ron Staedtler (Adam Scott, reuniting with his Party Down paramour), and especially gave new depth to Reagan's best friend Brett (Clark Duke), in what Paste contributor Rendy Jones wrote "may well be the best episode of the season."
Takeuchi, whose other credits include Disenchantment, Gravity Falls, and We Bare Bears, thanked viewers for their support:
I'm sorry guys, it's true.#insidejobpic.twitter.com/MQZJ3S7gRD

— Shion Takeuchi (@shhhhhionn) January 9, 2023
Unfortunately, Inside Job's cancellation is part of a larger trend of Netflix pulling the plug on shows after just one season. Other one series wonders include I Am Not Okay with This (which also received a reneged renewal), The Bastard Son & The Devil Himself, 1899, The Midnight Club, and First Kill. At this point, viewers hardly have any incentive to get invested in new Netflix shows unless they're mega hits like Wednesday, since they'll probably just be scrapped after a short run. Besides audience engagement, it's devastating news for those who worked on Inside Job and other creators in Hollywood. A Netflix deal is no longer a major coup for those showrunners who get it, merely a stopgap in employment.
While we mourn Inside Job's ending, check out Rendy's review of Part 2 and commiserate over Netflix's misguided choices by reading assistant TV editor Anna Govert's eulogy to Warrior Nun and other canceled shows.