Listen to Aziz Ansari and Rob Huebel Live: Human Giant's Live Set from Noise Pop 2008
Photos courtesy of Getty Images
Comedy
Features
Human Giant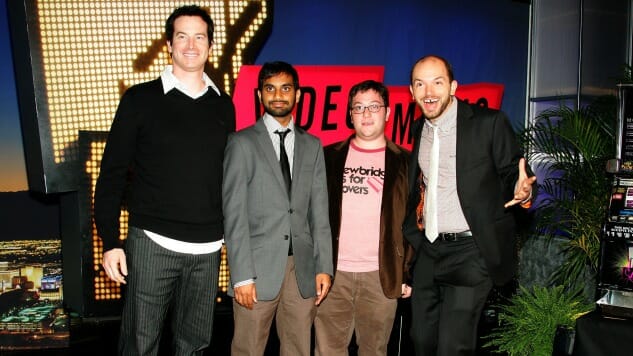 For a brief spell in 2007 and 2008 Human Giant kept the spirit of Monty Python, Kids in the Hall and Mr. Show alive on national TV with their MTV sketch show. The team of Aziz Ansari, Rob Huebel and Paul Scheer, along with off-screen partner and director Jason Woliner, produced 16 episodes that skewered the absurdity of life and pop culture in early 21st century America. The show's pinnacle was a 24-hour telethon broadcast live from MTV's studio in Times Square; the May 2007 broadcast featured surprise appearances from a who's who of comedy at the time, including Bob Odenkirk, Tim and Eric, Bill Hader, Andy Samberg, Kristen Schaal and more. It captured the anarchic spirit of early MTV and remains probably the last good thing the network has ever done.
Almost a year after that telethon Ansari, Huebel and Scheer booked a live tour in the build-up to the premiere of the show's second season. The tour was mostly cancelled after Scheer had to leave to shoot a film role, but before that happened Ansari and Huebel made the scheduled date in San Francisco at the 2008 Noise Pop Festival. They performed a variety of live sketches from the TV show and shared previews of the show's then-upcoming second season, with appearances from some of their most popular characters, including the child model agents of Shutterbugs and the Kriss Angel-style street magicians the Illusionators.
It's not that surprising that Scheer had to skip this show. Their increasingly busy schedules pretty much killed Human Giant after that second season, with Ansari starting up on Parks & Recreation in 2009 and Scheer and Huebel basically appearing in every single sitcom and comedy released over the last decade. For one night, though, San Francisco got to experience at least 66.6% of Human Giant in person, and now you can listen to that here or through the Paste Music & Daytrotter app.
Click the play button below to stream the whole show, or use the links at the bottom of the page to download the app for your iOS or Android device.