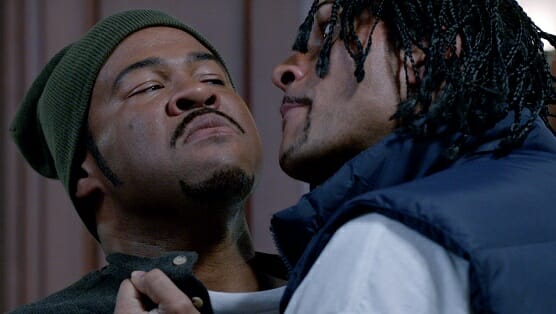 In five years, Key & Peele has crafted an entire universe of its own. Every Wednesday night offers another entry into the Urban Dictionary, what with their "Pussy on the Chainwax"-es and other instant catchphrases. Here, the nonchalant reappearance of "Roll With Me," a song from last season, drove home how developed the K&P world is for me personally. This nonchalant throwback to a central song in a past sketch is a wink at all sharp-eared viewers with solid memories, and it's totally fun. Okay, okay. Maybe I'm nerding out, maybe I'm trying to express my love for this show, or maybe I'm trying to cope with the fact that only three episodes remain. Regardless, Keegan-Michael Key and Jordan Peele have built something incredible in a relatively short timeframe, and I guess I needed to point that out just one more time.
Anyway, about last night…
I NEVER INTENDED TO…
This week's opener offers another (/final?) look at the good ol' Rhinos. Here, a tickle fight amongst athletes takes a turn for the awkward when Key's character accidentally touches his teammate's, er, privates. This is a great opener. It melodramatizes such a simple action, spinning into a topic that's fertile ground for jokes, but also totally unsuspected. The bit even goes so far as to masquerade itself as genre work. It lives somewhere between a thriller, a coming of age story, a buddy flick, and, as usual, the avant-garde. Not to mention, the sketch offers a nice homage to our titular characters' physical comedy. That frightened, half-frozen, and impeccably timed backwards trot—stepped out by both players in a mirrored fashion—is hilarious, and instantly brought me back to the valet guys sketch from two weeks back. All in all, this is a light and funny way to get things started.
Best Line: "It doeth now occur to me, that perhaps indeed I do play too much."
THE SEQUEL DOCTOR
Where the aforementioned opener was a nice intro to the show, it was merely building momentum for this sketch. I love the concept of "The Sequel Doctor," and any person who's seen a totally corny, likely tacky sequel (essentially, everybody) will likely adore it, too. Here we have Peele playing an airy, androgynous movie biz wunderkind—well, kinda—named Star Magic Jackson, Jr. Star's cutting-edge script crafting is all about crowdsourcing. With Star's support, the writing team completely disregards the integrity previously heralded by their head writer (Key), and lets loose their most left-field ideas for Gremlins 2. This sketch works well regardless of whether viewers have seen the film or not; you'll either find delight in the strange spectrum of on-the-fly character types, or relish in your premature arrival at the punch line. Spoiler alert: Each and every one of these little Gremlins make it into the film. Oh, and Back to the Future 3 has cowboys.
Best Line: "Studios just bring me into oversee things when they 'bout to drop a deuce." Candidate for best double-entendre in the show's run, right here.
For Sales Associates Only
This sketch is one of those could-be stressful scenarios. Because of this, it's my least favorite of the lot. Regardless, it has some great moments, thanks in large part to the incredible ridiculousness of a mumbling janitor (Peele) and an over-the-top executive-type (Rob Riggle). Anchoring the whole she-bang is well-intentioned corporate drone Ron, which puts Key, yet again, in the role of the mentally strained straight man archetype. The weird dynamics between these three characters make for some fun moments, almost all of which are at the expense of poor Ron. Undeniably, Rob Riggle is the MVP of this sketch. He absolutely nails the pretentious exec character, right down to the timing of his spits at the vignette's intro. I also love how seamlessly Peele's janitor adopts the new role of bagel keeper after Ron's dismissal. Good stuff, albeit a little intense.
Best Line: "Fal assosienses only," the phonetically impossible and totally indecipherable mumble that the janitor shares at the end. Ha!
MOVING: IT'S THE WORST
I spent the morning getting quotes from man-with-a-van type moving companies. Needless to say, for me, this bit hit pretty damn close to home. Newsflash: moving totally sucks. It's so awful that I almost don't fault Key's character's totally asshole decision to dump his girlfriend while she moves apartments. The horror film sound affects perfectly accent this anti-fantasy, and the true to life dialog ("Do you think you can borrow your roommate's van?") are incredibly relatable. This is one of my favorite sketches from the episode, and one I can imagine sharing with friends on moving days forevermore.
Best Line: "I don't need this time apart for me, I need this time apart for us! How long do you think it's going to take you to move?"
DON'T SNITCH
A bag of chips and soda: these items, toted by probable informant J-Rock (Peele) seal the fate of the criminals brought into police questioning after him. Although J-Rock's cousin (played by Mehki Phifer) swears that he's no snitch, his hot-and-cold reaction to law enforcement says otherwise. This bit is another showcase of Peele's microscopic character detail. That thick eye roll, for example, coupled with a particularly animated "nooooothing" all plays into what makes Peele's performances top-notch. One of my favorite moments was J-Rock's drastic switch from utmost police cooperation—that pizza time dance, hello!—into hollow resentment when speaking with his "friends." It's perfectly timed, and lands just right. The icing on the cake is that final shot: J-Rock leaves the interrogation room in one of those mini cars you always wanted as a kid. He's got lobster in hand and "Roll With Me," a track that last appeared in season four's "Terrible Henchman," plays like a victory song.
Best Line: "Looks like he just got back from the f*cking snack shop!"
SO MANY YEARS…CIRCLE OF LIFE…
Episode eight ends strongly. In this final sketch, Pete (Peele) attempts to navigate a discussion on African politics with two friends—one of which, the scene's intro tells us, he finds attractive (and likely on a date with another man, played by Key). Therein lies our story's conflict. The problem is, Pete's got nothing. The only bit of dialog he can cling to is a fairly inconsequential mentioning of The Lion King. Luckily for him, his charade works. By blindly comparing talk of U.N. policies and human rights to Disney films, he gets through the conversation, impresses the girl, and upstages her would-be suitor. The sketch shows Key & Peele mining personal identity—particularly, African-American identity—and the closeness with which a person relates to ancestral narrative. The end result is a testament to the show's often liminal, always thoughtful, output. Not to mention, it's profoundly funny.
Best in Show: "You know, Pete, I'd be really interested in hearing your thoughts on the U.N.'s policies in East Africa."
"Hakuna matata…"
"Yes. My God, that sums it up perfectly!"
INTERSTITIAL CAR SEQUENCES
These vignettes have been on point lately, but this week they're noticeably less sharp. Here, our stars talk Hollywood sequels, dogs observing their people in intimate scenarios, and very literal Key & Peele handshakes. All in all, these moments feel a little less personal this week, and, for some reason, that bums me out.