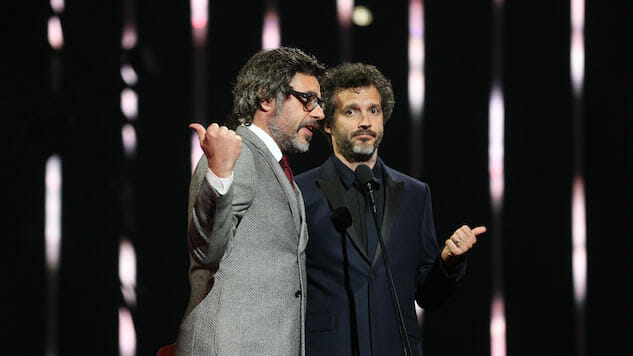 It's business time again. New Zealand's "fourth most popular parody duo" Flight of the Conchords have announced a new live album to follow their 2018 HBO special Flight of the Conchords: Live in London. Jemaine Clement and Bret McKenzie recorded the new album, also titled Live in London, at a stop at the Eventim Apollo theater in the U.K. during their recent Flight of the Conchords Sing Flight of the Conchords tour. It comes out March 8 on Sub Pop.
Live in London marks the duo's first recorded release since 2013's charity single "Feel Inside (And Stuff Like That)," which received a New Zealand Music Award for highest-selling single. The new album will feature seven brand new songs, including the already-released singles "Iain and Deanna" and "Father and Son," as well as performances of their classic hits "Robots," "Bowie," "Inner City Pressure," "Foux du Fafa," "Mutha'uckas – Hurt Feelings," "Carol Brown" and "The Most Beautiful Girl (In the Room)."
The duo debuted as a band in 2005 when they were featured on an episode of the HBO comedy series One Night Stand. Two years later, their own HBO show debuted to widespread acclaim. It ran for two seasons and received several Emmy nominations. McKenzie and Clement also signed a worldwide deal with Sub Pop and released their Grammy-winning debut EP The Distant Future in 2007. They then went on to release two Grammy-nominated full-lengths, the self-titled Flight of the Conchords in 2008 and I Told You I Was Freaky in 2009.
Both Clement and McKenzie have been busy since their last run as Flight of the Conchords. McKenzie has gotten into music supervision for film, and led the soundtracks for The Muppets and Muppets Most Wanted. He even won an Academy Award for Best Original Song in 2011 for "Man or Muppet." Clement dove into voice acting in the intervening years, with featured roles in animated films like Rio, Moana, and The Lego Batman Movie. He also directed his first feature film with Taika Waititi in 2014, the horror-comedy What We Do in the Shadows. He currently appears in a regular role as Oliver Bird on the FX series Legion.
Check out the latest single from Live in London, titled "Iain and Deanna," below, along with Clement's recent appearance on Paste's What Do You Love?. You can preorder Flight of the Conchords' new album here.