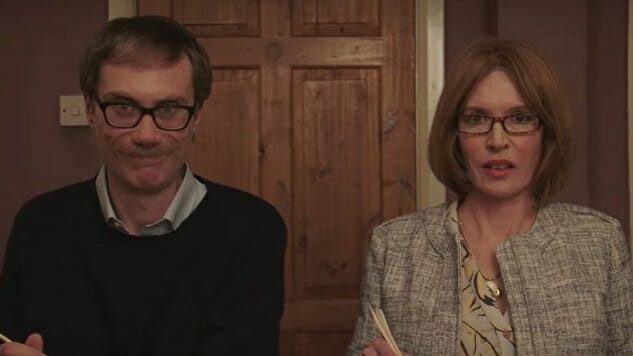 Fighting With My Family is a modest but charming biopic about the WWE wrestler Paige, who grew up in a family of small-time pro wrestlers and promoters in England. It might take a lot of liberties with how WWE's developmental system works, and feel kind of slight overall, but it's still a fine and funny film, with strong performances from key cast members Florence Pugh, Jack Lowden, Game of Thrones' Lena Headey, and Nick Frost. It benefits greatly from the unflashy but firm direction of The Office co-creator Stephen Merchant, who also wrote the script, bringing his keen wit and comic eye to the project without mocking or belittling wrestling. Merchant's able to balance a generally light tone and breezy pace with the more serious moments required by Paige's real-life struggles, resulting in a comedy-drama that even non-wrestling fans can enjoy.
Perhaps the funniest scene in the film happens early on, when Merchant and Julia Davis (of Camping and Sally4Ever) cameo as the parents of Paige's brother's pregnant girlfriend. An incredibly awkward conversation that plays like a less cringe-worthy Office scene plays out, with Merchant and Davis dryly playing proper middle class citizens trying to hide their discomfort and disdain with Paige's unfiltered, working class parents. Merchant, Davis, Frost and Headey play well off of each other, with the former two underplaying everything, Headey trying hard to come off as a regular woman, and Frost struggling to contain the rough-hewn boisterousness of a blue collar pro wrestler.
Fighting With My Family, which is already available on digital, will be out on Blu-ray on Tuesday, May 14. Among its various bonus features will be an extended cut of that dinner scene that's even funnier than what's officially the movie. Here's a clip of that extended dinner scene, featuring Stephen Merchant, Nick Frost, Julia Davis and Lena Headey.
Fighting With My Family is now available on Digital, and will be available on Blu-ray, DVD and On Demand on May 14, 2019.