The Eddie Murphy / Bill Cosby Feud Reignites After Murphy's SNL Monologue
Screen cap from YouTube
Comedy
News
eddie murphy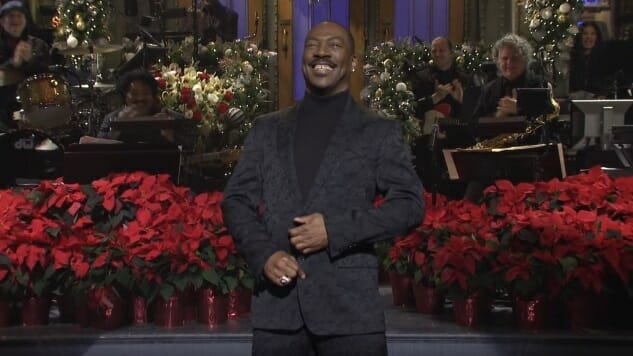 One of the biggest feuds of the 1980s has been reignited, and I'm not talking about whatever the hell is going on between us and Russia right now.
The Eddie Murphy / Bill Cosby feud isn't new. Murphy memorably mocked Cosby in his film Raw in 1987 after Cosby complained to Murphy about how vulgar his act is. So when Murphy hosted Saturday Night Live this past weekend (returning to the show for the first time in 35 years), it wasn't that surprising that Murphy would make a well-earned and entirely accurate joke about how his and Cosby's reputations have changed over the last 30 years. Murphy, a father of 10, is pretty much now a stay-at-home dad, while Cosby, "America's Dad," and the self-appointed arbiter of good taste in comedy, is—well, I think we all know Cosby's deal. He's in prison after being convicted of sexually assaulting one of the dozens of women who have accused him of drugging and raping them over the last 50 years.
Cosby, who continues to act like he did nothing wrong, and even compared himself to Martin Luther King Jr., Nelson Mandela and Gandhi earlier this year, quickly fired back at Murphy through a spokesperson. On Sunday the Cosby camp released a statement that called Murphy "a Hollywood Slave" and accused him of "cooning" like Stepin Fetchit. The statement praised Cosby for breaking racial barriers in entertainment and elevating his race, while ignoring the dozens of women of all races who Cosby is accused of raping.
There's really nothing Cosby could do at this point to hurt his reputation any more, but pretty much every public statement made by him or on his behalf over the last few years has certainly tried to do so. He's an embarrassing, delusional old predator, and the world would be a better place if we didn't have to hear from him again.
Anyway, after pointing out in his SNL monologue that, despite the supposed poor taste of his old stand-up act, he's not the one in prison today, Murphy was joined on stage by a handful of comedy legends with ties to the show, and another who doesn't. Chris Rock, Tracy Morgan and Dave Chappelle all came out on stage to greet their friend, and each one mentioned a terrible sketch idea they had supposedly pitched to Murphy. The interactions between the four of them are definitely worth watching. The bit ended with Kenan Thompson, the longest serving cast member in SNL history, joining the group, after shooing resident dumb white guy Beck Bennett off stage. If you haven't seen it yet, check it out below.