Sharpen Your Swords and Fill up Your Glasses: Disenchantment Part Two Is Coming This Fall
Images via Netflix
Comedy
News
Disenchantment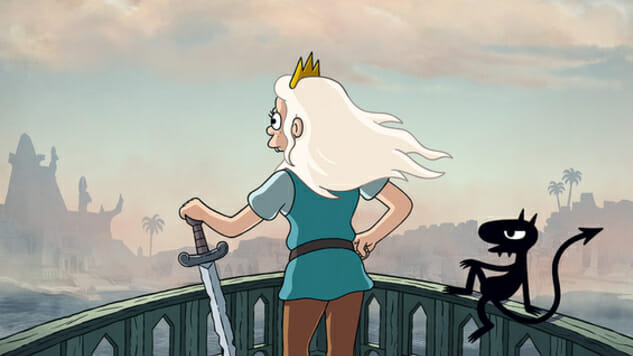 Matt Groening's booze-fueled Disenchantment returns to Netflix Friday, Sept. 20, so it's time to brush up on the Futurama-but-make-it-fantasy animated series.
What can we expect from the second chapter of Groening's medieval sitcom? Netflix is keeping details close to the chest at the moment, teasing in a press release:
Dying for more Disenchantment but perhaps your memory is a bit … cloudy? Allow us to catch you up: Elfo is gone. Dreamland is deserted. Princess Bean is on a mission.
One thing we do know: Disenchantment's story won't be ending anytime soon. Netflix picked up two more seasons of the show last fall.
Disenchantment Part Two is a Netflix exclusive. Check out the show's cheeky new teaser art below.