Netflix Orders Two More Seasons of Matt Groening's Disenchantment
The animated series will run through 2021
Images via The Ululu Company/Netflix
Comedy
News
Disenchantment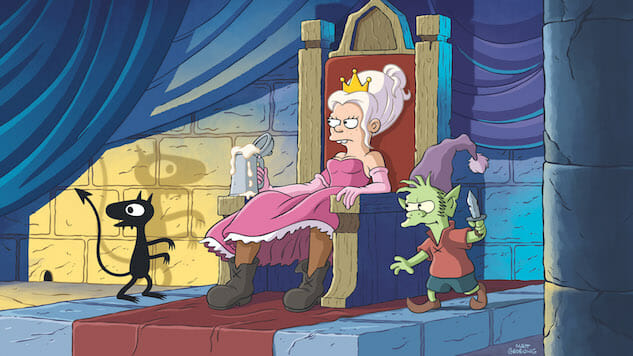 The adventures of the unconventional Princess Bean, her half-elf best friend Elfo and the demon Luci will continue through a fourth season.
Handing out another 20-episode run, Netflix has matched its original order of Disenchantment, just over two months after the series' Aug. 17 premiere. Just as the first two seasons, the 20 episodes will be split into two batches of 10, with season two scheduled for 2019, and the newly ordered seasons three and four rolling out in 2020 and 2021, respectively.
The misadventure continues. New Disenchantment coming in 2019, 2020, and 2021. pic.twitter.com/HWzXeYxRQ4

— Disenchantment (@disenchantment) October 22, 2018
The early arrival of the show's renewal is likely due to the extra time needed to produce an animated series, ensuring that those working on the show can continue to do so without interruption.
"We're excited to continue this epic journey with Netflix," said Disenchantment creator Matt Groening (The Simpsons, Futurama) in a statement. "Stay tuned for more cranked-up suspense, infuriating plot twists and beloved characters getting knocked off."
Taking place in the less-than-fairytale kingdom Dreamland, the series features Abbi Jacobson, Nat Faxon and Eric Andre in its three leading voice roles. Animation for the series is handled by Rough Draft Studios, which has previously worked with Groening on Futurama. It is produced by The Ululu Company, with Groening and Josh Weinstein serving as executive producers.
Check out the trailer for the first season of Disenchantment below.