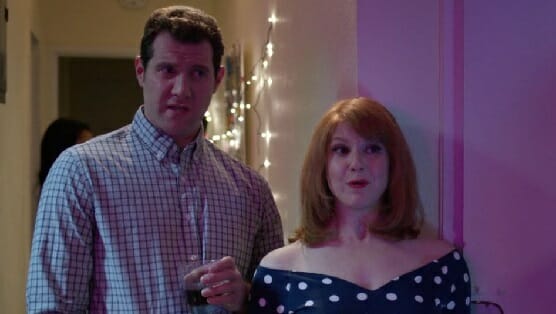 There was a time when guest star appearances on sitcoms were the kind of things that got promoted to death, with print ads and TV commercials burning the image of Laura Dern or Jean-Claude Van Damme onto your corneas. In our current age of information overload, that has shifted to larding episodes of shows with surprise appearances by familiar faces.
Thankfully, most showrunners are using those little revelations wisely, like Louis C.K. dropping David Lynch of all people into the middle of his three episode arc trying to become Letterman's replacement. Difficult People is handling the use of guest stars quite nicely as well. Sure, the appearance of Seth Meyers wasn't too jarring, but having him walk up and ask Billy to go jerk off behind a building sure was. And throwing Kathie Lee Gifford into the mix, with her revealing herself to be a nasty Internet commenter who gives Julie the nickname "Fat Reba," was a nice touch of weirdness to an already off-center installment of the show.
That the addition of those famous faces didn't cause an already overflowing episode to get completely upended is perhaps the greatest victory of all. This edition of Difficult People is positively stuffed with great standalone scenes and sharp bits of dialogue while also managing to move the plot of the half-hour along. That could be anything from Arthur drunkenly ranting about an imagined PBS/NPR rivalry to watching Billy's co-worker Matthew sharing kisses with his sugar daddy boyfriend and his dog. Like the shock of having Kathie Lee sit down opposite Julie in a diner, those little asides added some wonderful color to the proceedings rather than leading to imbalance.
The rest of the episode held to the nature of this sitcom, which is to allow our hero and heroine to make fun of pop culture and comment on modern life while simultaneously throwing themselves under the bus for their hubris and bad attitudes. It says a great deal that Julie Klausner would be willing to write an episode where the harshest comments in it were about her character, and to leave both main characters no closer to being celebrities because they put their feet in their mouths and do really stupid things. Like lying about Julie's mother having no legs. Or putting off the attention of a genuinely nice guy because…well, he's too damn nice.
At the same time, they take some shots at the current ladder to success in the comedy world: podcast to book deal to a holding deal with a major TV network. Again, for as much fun as it is to hear a few silly jokes meted out on podcasters—like the over-the-top host of Bros Dissin' Chicks and the bar where all the hosts hang out called Premium Membership—it's worth remembering that Klausner pretty much followed that same path to this show. But it's the constant biting of the hand that feeds that makes her and Eichner's characters difficult people. It doesn't seem to slow them down any either. By the end, they were laughing joyously even after being told, for the third time, to go fuck themselves.
Robert Ham is a Portland-based freelance writer and regular contributor to Paste. You can follow him on Twitter.