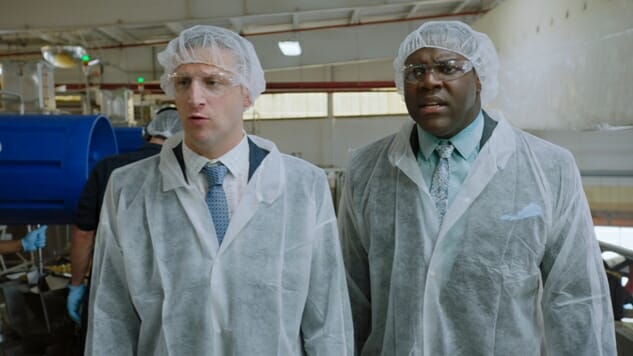 Sometimes we actually like stuff here at Paste Comedy. An example: we like that free cucumber water you can often find in hotel lobbies. It's very refreshing, and whether you get there in a car or by plane, you're almost always guaranteed to be parched when you first walk into a hotel.
We're also big fans of the Comedy Central show Detroiters, as you can tell by our frequent coverage of it. A loving tribute to the Motor City and the concept of friendship from Zach Kanin, Joe Kelly, Sam Richardson, and Ian Robinson, Detroiters is at once sincere and absurd, sweet and shocking, cartoonish and yet grounded in a recognizable form of reality. Somehow it remains consistent in its tone and in its characterizations despite sometimes feeling almost sketch-like in its plotting and pacing. It's a very confident show, relaxed and unhurried and utterly aware of what it's trying to say and why, and that makes it not just funny but also a legitimately great TV program. Again: we like it, and we have our reasons.
The second season, which has been as strong as the first, wraps up tonight. It might be a bittersweet moment: Comedy Central hasn't renewed it for a third season yet, and the ratings aren't especially fantastic. Tonight's finale sort of dances around the show's uncertain fate, with one of the two leads (Richardson and Robinson) leaving Cramblin Duvet Advertising. It's a reliably sharp half-hour, wringing genuine emotion out of Sam and Tim's love for each other and their sense of responsibility for their friends and family, while still possessing the kind of absurd flourishes and awkward asides that makes Detroiters so funny. (If you're a fan of Mr. Duvet, you'll probably dig this episode.) And although there's no guarantee Detroiters is coming back, if tonight is the end, at least it goes out on a beautiful image that perfectly sums up the show.
Detroiters airs on Comedy Central tonight at 10:30 PM ET/PT.
---
Garrett Martin edits
Paste
's comedy and games sections and also writes about theme parks. He's on Twitter @grmartin.