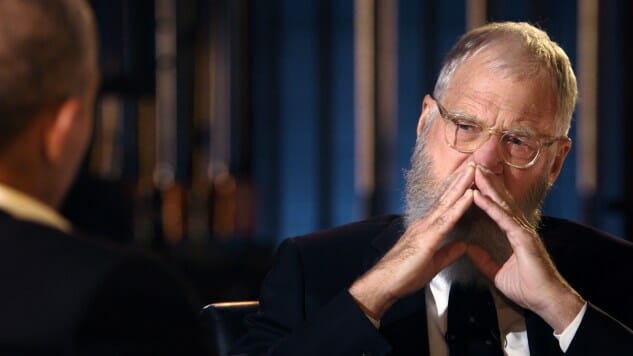 Presumably David Letterman retired for a reason. When his Netflix talk show My Next Guest Needs No Introduction was announced, I assumed it wouldn't just be a continuation of his old shows under a new name, especially considering each episode was focused on a single guest. There'd be some humor, for sure, since that's what the man is mostly known for, but I didn't expect the sketches and remotes that Letterman was known for throughout his career.
That was until a press release touted the show's field segments. The line in question doesn't promise jokes—"field segments will bring Dave to locations far and wide, expressing his curiosity and desire to dig deeper on a specific topic related to the iconic guest featured in the episode." But throughout his career, and especially during his Late Night with David Letterman days on NBC, Letterman was known for turning the streets of New York into his stage, with security guards, shop employees and random passersby as his not-always-so-willing partners. That stuff remains the best and most timeless part of those great old Late Night episodes, and the thought of Letterman doing "field segments" in that style got me excited for something I should have known not to expect.
Sure enough, the field segments in the first episode of My Next Guest aren't remotely interested in comedy. They're actually the driest, most serious part of the episode. And that was absolutely the right decision on Letterman's part, not just because of who his guests were and what they talked about, but because of the larger picture of both late night TV and politics in 2018.
Letterman's first guest on his new show is Barack Obama. Their conversation in a small theater is warm and funny and personable but mostly a serious talk about serious issues and if our current leadership is capable of addressing them. The field segments see Letterman talking to US Congressman John Lewis while walking across the Edmund Pettus Bridge in Selma, Alabama, while talking about the civil rights movement that Lewis helped lead in the 1960s and our current president's terrible track record on civil rights issues. So yeah, nothing light and funny, there.
We don't need another talk show making jokes about Trump, though. We have almost a dozen of those already, more if you count news parodies. Instead of the same predictable jokes and lazy Trump impressions, Letterman uses the first of his new show's field segments to have a serious discussion with a national hero about America's defining issue, an eternal flaw rooted in the very foundation of our country, and one that our current president and the party and voters who support him are intent on exacerbating. Instead of mocking Trump's vanity, arrogance and ignorance, My Next Guest presents a clear rebuke to a dangerous, hateful worldview that helped bring Trump to power, one that Trump himself either ascribes to or has no problem exploiting. Lewis and Letterman might be talking about events from over 50 years ago, but with the rise of the alt-right and the continued prominence of old-school racism they clearly have our current day and our current president in mind as they walk across that bridge.
There are no jokes in that field segment. There shouldn't be. There are too many jokes as it is, about Trump, about the far right, about every news story and current event, every single day. Late night TV is being suffocated by the sheer bland uniformity of it all, by the need to discuss the day's events in the exact same way these shows have been doing for decades. Instead of trying to recreate what he was known for, and what has been rendered obsolete through pure repetition, Letterman instead has taken a page from more sober interview shows that are very different from what he did on network for over 30 years. You might expect comedy from a comedy master, but don't: My Next Guest Needs No Introduction with David Letterman has more on its mind.
---
The first episode of My Next Guest Needs No Introduction with David Letterman, featuring Barack Obama, is now on Netflix.
Garrett Martin edits Paste's comedy and games sections. He's on Twitter @grmartin.