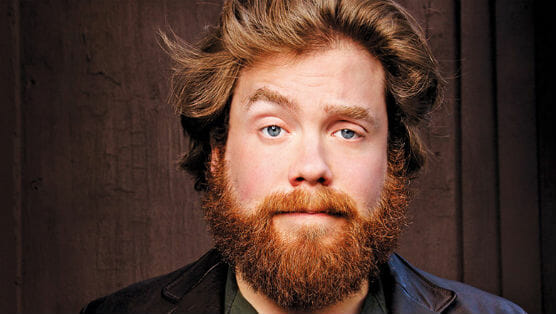 The first thing that comes to mind when thinking of Dan St. Germain is the beard. It's long, red, unkempt and takes up half of a usually sweaty face. According to Germain, he's thought about getting rid of his signature look. The beard's gotten him mistaken for a homeless guy, sabotaged job interviews and doesn't exactly excite the opposite sex. There's also his workout regimen. Or lack thereof. On his first day with a personal trainer, goals included three jumping jacks, carrying groceries without wheezing and taking a shower without lying down. Like so many successful comedians today, this is where Germain's best material stems from: self-deprecation.
You think of his appearance, sure, but that's not what commands the stage. It's mainly his loud mouth and over-the-top delivery that stands out. Germain was born and bred in New York City and understands it takes a big personality to win over any crowd. What he's best at is pointing out everything that is wrong, weird and hilarious about his personality.
That's precisely what's so good about Bad at the Good Times, Germain's first full-length comedy album. Throughout the album, which was performed and recorded at Los Angeles' NerdMelt Showroom, Germain rips on himself for the full hour, ranging from horrible break-ups to horribly depressing Facebook statuses. He recognizes what's funny, tears himself apart and goes down with the ship. But make no mistake, Germain is fully in control as captain. He just knows which waves make the biggest splashes.
Right off the bat, Germain shows his ability to play off the audience by calling out a casting director, a Hollywood stylist and a dude in a storm trooper t-shirt (more his demographic) and riffs about passing out head shots after the show and looking the part for "Dead Hooker Quarterly." Then comes the written material, which starts with a comfort zone of his: living in New York. If you've seen Germain on Comedy Central, Conan or Fallon, you'll catch that a few of the jokes here are old but good ones. The cat-guy on the subway is a hit as always and notes "you've got to be Varsity crazy to make it in New York," there's no room for JV crazy.
When Germain moves to his love life—which is track-listed as "Me and the Ladies!", "Sex Stuff!" and "A Girl Left Me!"—the self-deprecating hits a high note (or low note, depending how you look at it). With single mingling at a minimum, Germain knows what he wants: a woman who's the type that's not allowed back at certain bars. Masturbation without Wi-Fi, a girl leaving him in "Free Willy" fashion and giving out medals to ex-girlfriends for putting up with him are just a few of some of the best bits in the set. Again, some of the funniest stuff is right here, where Germain is most vulnerable.
Later in the album he dusts off one of his best jokes about Connecticut Muffins and follows it up with the best joke of the hour about "Renegade Daycare," both punch lines too filthy to print and too good to spoil. The rest of the album is split up between music, movies and his family. Did we all know that Paul wrote "Hey Jude" about John's marital and parenting troubles? Germain makes sure to clear this up and affirms that it had to be the most awkward recording session ever. Agreed. Then he calls out both Wiz Khalifa for making no sense in a Maroon 5 song and Taken 2 for drastically lowering the stakes for the sequel.
"This is how Taken 2 should go," he starts. "'We have your ex-wife.' 'Oh, tell her I said hi.' Click. Taken 2. End of Taken 2."
He then nails impressions of Paul Giamatti and Philip Seymour Hoffman (calling The Ides of March the Freddy vs. Jason of sad people), calls out his grandpa as the only alive person to annoy ghosts and goes on an eight-minute rant about his struggles with sobriety. The album rounds off nicely with his Evan Williams bit—a crowd favorite—and thanks the gracious audience who are vocal and present the whole hour. Germain is a funny guy. Because he's somewhat of a newcomer, some bits are recycled for his debut album and that's understandable. He has a promising future, as we've mentioned before, so make sure to stick with this guy. As he'll confess, he needs all the love he can get.