Conan Plays Mario Kart with Seth Rogen & Zac Efron, Loses Horribly
Images via YouTube
Comedy
Video
Conan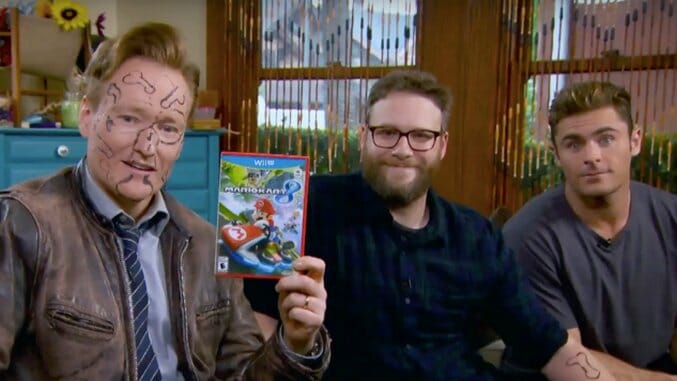 Conan's "Clueless Gamer" segment, in which Conan O'Brien and his guests fail miserably at various video games, is consistently hilarious. In last night's typically uproarious bit, Conan challenged Neighbors 2: Sorority Rising co-stars Seth Rogen and Zac Efron to a friendly game of Mario Kart 8. Needless to say, things did not go well for the red-headed late-night host.
In the spirit of Rogen and Efron's forthcoming comedy, Conan taps a green tea kombucha keg and puffs on a vape pen before the trio make a frat-house-style wager: the loser of each race gets a penis drawn on him. "Clueless Gamer" viewers know well how atrocious Conan is at video games, and true to form, the funnyman ends up with more than a few phalluses strategically markered onto his moneymaker.
Enjoy the "Clueless Gamer" clip above, and check out the Neighbors 2 trailer here.