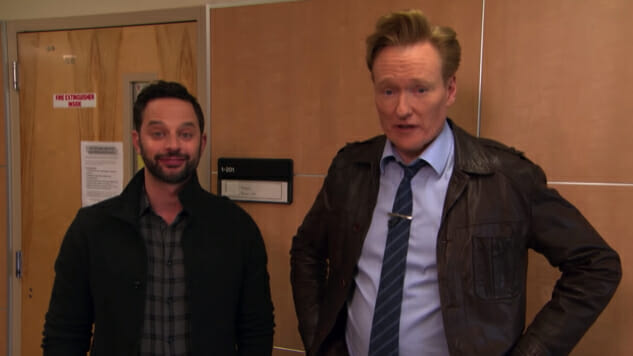 Conan O'Brien and Nick Kroll teamed up to promote the latter's acclaimed sex-ed comedy Big Mouth by teaching sex ed to a group of Burbank, Calif., high-schoolers in a Conan remote, and let's just say there's a reason these two goofballs didn't go into education.
Despite Conan's experience in the arena of talking to kids about sex ("[This is] something that I've been arrested twice for"), the duo fail miserably where Big Mouth so consistently succeeds: in providing a guiding light to the pubescent, tinged with empathy and understanding, without sacrificing raunchy comedy. Conan and Kroll (who boasts, "between us we've had over three sexual partners") focus all their efforts on the latter, resulting in what one student in the room (another of whom is clearly Conan's long-lost son) savagely deems "kind of a waste of time."
Conan, Kroll and their captive audience discuss all the usual sex-ed suspects: the size of sperm, consent, Magnum condoms, how to put on condoms ("Get two men, comedians, to help you"), penis curvature (Conan is aghast at the suggestion that a banana is a healthy facsimile), their first times masturbating (Kroll to a Victoria's Secret catalog, Conan to a Richard Nixon TV appearance), the location of the vagina, porn and the inaccuracies thereof, flavored condoms ("Just when I'm hungry," Kroll deadpans) and more. They do so with the help of a couple of props, naturally, including a banana, pear and pineapple, as well as a baby full of cocaine and/or sand. Things get weird.
Big Mouth's Valentine's Day special "My Furry Valentine" is now streaming on Netflix, with a third season of the show to follow sometime in 2019. Conan, meanwhile, recently returned to TBS in its new, half-hour format, airing weeknights on TBS at 11 p.m. ET.
Watch Conan and Kroll try their best below.