Check Out a Preview of "Clueless Gamer: Super Bowl Edition 3" from Tonight's Conan
Images via TBS
Comedy
Video
Conan O'Brien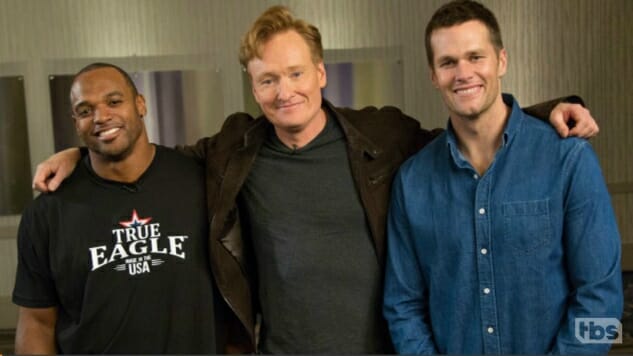 If you've ever wanted to see America's closest modern approximation of gladiators face off as vikings, samurai or medieval knights, you might want to tune in to Conan tonight.
Tonight's episode will see the New England Patriots' Tom Brady, Rob Gronkowski and LeGarrette Blount face off against the Atlanta Falcons' Dwight Freeney in a match of Ubisoft's forthcoming ahistorical murder-fest, For Honor. It's all part of "Clueless Gamer: Super Bowl Edition 3," and the event will mark the opposing players' only joint appearance before taking the field for Super Bowl LI this Sunday.
Also joining the digital fray will be retired Seattle Seahawks legend and returning Clueless Gamer guest Marshawn Lynch. Fox Sports NFL reporter Erin Andrews will sit in as well to "provide sideline commentary for the competition."
For those who don't know, Clueless Gamer is a popular Conan segment in which Conan O'Brien plays (or attempts to play) the newest popular videogames with celebrity guests. Perhaps the segment will give Tom Brady yet another platform to somehow not have an opinion on Donald Trump.
Recently, TBS President Kevin Reilly revealed the network's plans to spin off the popular game-centric segment, saying that more will be revealed between now and May. Tonight's episode airs at 11 p.m. EST on TBS.