The Daily Show and The Opposition are Going Live Right After Trump's State of the Union Tomorrow
Photos by Bryan Bedder/Getty
Comedy
News
Comedy Central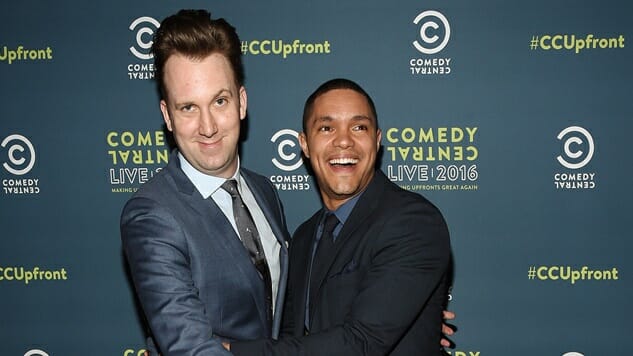 On Tuesday evening, Donald Trump will deliver the State of the Union address to a divided nation, a majority of which will be anxiously awaiting one of the ever-increasing number of responses from opponents of the president. It seems that the latest product of the Kennedy dynasty and Bernie Sanders will be competing for airtime alongside two late-night luminaries in the back-to-back attack of Trevor Noah and Jordan Klepper.
Tomorrow night, beginning at 11 p.m. EST, The Daily Show with Trevor Noah and The Opposition with Jordan Klepper will air live broadcasts with a focus on responding to the president's speech. This will be the seventh live show for Noah and the first for Klepper since The Opposition launched last fall.
Joining Noah at the Daily Show desk will be the Editor-in-Chief of The New Yorker David Remnick while The Opposition will welcome journalist Lauren Duca, and radio and TV personality Charlamagne tha God.
Both shows promise to deliver the biting satire and commentary they have become known for, and it's always intriguing to see what the minds behind two of the best comedic voices speaking to power are able to develop in such close proximity to whatever comes out of Trump's mouth.
Also, both shows have rad special titles. The Daily Show with Trevor Noah State of the Union 2018: The President Goes An Hour without Watching TV will air live at 11 p.m. EST, followed by The Opposition w/ Jordan Klepper State of the Union 2018: Winning the Union at 11:30 p.m. EST.