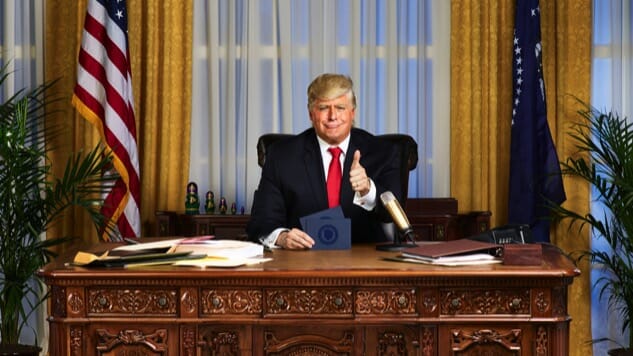 The entire campaign, election and now presidency of Donald J. Trump has been a boon for impersonators, with perhaps the greatest benefactor being UCB performer Anthony Atamanuik (though Trumpcast's John Di Domenico is a close second).
Now the Impersonator-in-Chief is getting his own show, and he (or rather, "Trump") is promising it will bring a ratings landslide on the level of the 2016 election (where President Trump had the 46th-best margin of victory in the Electoral College). The President Show should also be "huge," "just terrific" and will "make late night great again" (because that "Noah Trevor" guy and his ilk are clearly "failing").
"When I was first approached about this show I thought it would be about me, but on further thought, this makes way more sense," said Kent Alterman, President of Comedy Central, in a statement. Atamanuik himself added:
Laughing at the President is a proud American tradition and we hope not to disappoint anyone in that department. But our political system is too broken for us to be content joking about one man, even though he is a disastrous silly little toddler boy. Mostly I'd just like to thank Comedy Central for giving us this platform to speak truth to power and if we're lucky, end up in prison!
The President Show debuts on Comedy Central on Thursday, April 27, at 11:30 p.m. EST, directly following The Daily Show. Check out a preview below, and find more on Atamanuik's Trump impersonation here.