Comedy Central Launching Podcast Network, To Include Jim Jefferies and Daily Show Companions
Photo by Ali Goldstein/Comedy Central
Comedy
News
Comedy Central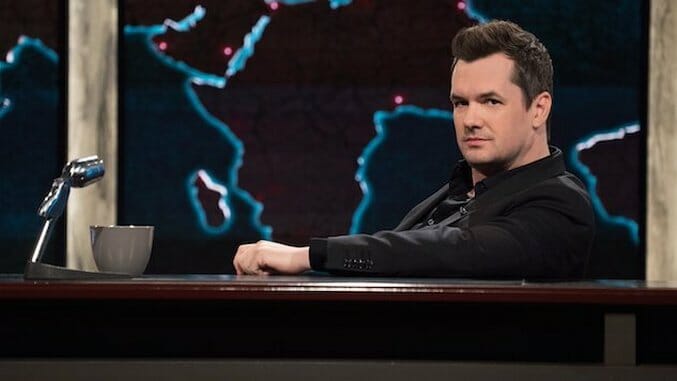 Comedy Central is looking to extend its franchises, utilizing the hot and rising medium of audio podcasts. Beginning with The Jim Jefferies Show this week, Comedy Central is building the foundation for a podcast network based on their existing brands. After The Jim Jefferies Show Podcast will come another series based on The Daily Show with Trevor Noah.
The Jefferies podcast will act as a "post-show" to the weekly late-night comedy series, diving into jokes and conversations that didn't make it to the televised episodes. Comedy Central will soon debut an "Ears Edition" of The Daily Show, featuring highlighted segments and extended interviews from the show. Additionally, the Daily Show team is also at work on an "original mini-series" that will further extend their comedic takes on the news.
Other podcast shows mentioned are History of the Roast, in which each episode of the miniseries will "examine a specific [Comedy Central] Roast" with behind-the-scenes audio clips and interviews, and Up Next, based on the television show that searches for new stand-up comedians.
In a press release, Comedy Central executive Steve Raizes adds:
"Podcasting is the next step in the evolution of Comedy Central content, an extremely versatile, and exciting medium that furthers our 360 strategy to allow our talent to express their vision and connect directly with fans across multiple platforms. We're huge fans of podcasting and truly excited to create content based on our signature properties as well as entirely new concepts."
Podcasting is the future, so shut up, plug those buds into your earholes, and prepare to laugh. The Jim Jefferies Show Podcast premiered yesterday on Sept. 20, with the other announced show all having undetermined air dates.