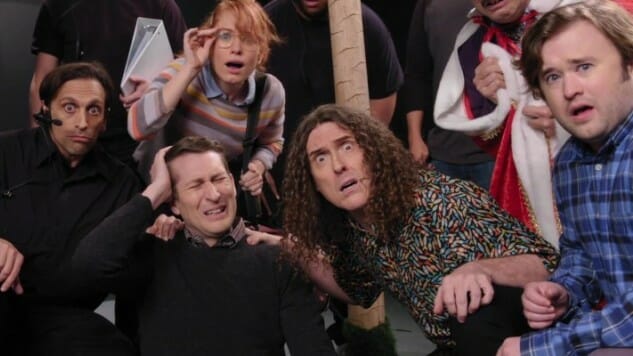 After five years on the air, Comedy Bang! Bang! is finally breaking off its first hundo. Almost every week, I still can't get over that Comedy Bang! Bang! on television is a thing. It's strange to think that there is a chance I can turn on my TV and see The Time Keeper or Fourvel or a myriad of Paul F. Tompkins characters being interviewed by Scott Aukerman, and the fact that there are now one hundred episodes of this brilliant show is incredible to me.
Over these one hundred episodes, Comedy Bang! Bang! has become a well-oiled machine, especially in its fourth season, where the show had to crank out 40 episodes. Because of that, if I had to point out CBB's biggest flaw, it's that it can sometimes become too formulaic. That formula is almost always successful, but there can often feel like a fill-in-the-blanks style happening with most episode's scripts. Fortunately that's not true with episodes 99 and 100, as "Kristen Schaal Wears Strawberry Colored Pants and a Multicolored Shirt" and "Zach Galifianakis Wears Rolled Khakis and Shoes with Brown Laces" break from the mold to give two of the show's often overlooked aspects moments to shine.
For "Kristen Schaal," that aspect is "Weird Al" Yankovic, who has had his moments since joining the cast this season, but gets the chance to star in this week's first episode. Here we meet Al's evil twin brother that films the soap opera Handsome Harbor next door. This story allows us to see Al in a way we've never seen him: as a scum bag. It's so drastically different than his usual demeanor that just looking at him in his evil mustache and short hair is inherently hilarious.
Kristen Schaal is unsurprisingly wonderful on the couch and the show sort of allows her to play a blend of guest and character that few guests have been able to do. But the real star in "Kristen Schaal" is Paul Rust—the bad boy of comedy—with his New No Nos segment. Rust's strange observations and "new rules" make his every appearance on the podcast great, but watching him in action is even better, especially seeing Scott try and fail miserably to keep a straight face.
The actual 100th episode, "Zach Galifianakis," gives focus to a segment that often just feels tacked on, but can feature some of an episode's best moments: the "prerecorded" bit. Usually they're a funny way to burn some time in an episode, but in "Zach Galifianakis," they become the core of the story. As Scott gets prepared to get married to Vanna, a part time astronaut, part time boob model, as a special draw for the 100th episode, he gets hit on the head by a coconut from a palm tree sketch and gets amnesia. From there, the show's crew, guests and random additions explain to Scott about how they met in his shitty ass life.
Every one of these bits are gold, as we see Scott and Al when they met in war and stole two dead soldier's identities to become the men they are today, Dick Whitman style. We see how Scott gave Lord Andrew Lloyd Webber the idea for Cats. Each segment here is short and sweet and fits right into the craziness of CBB. It's also just a wonderful way to break from the show's usual formula, especially for such a gigantic moment in the show's history, while not ignoring the guest and character that each episode has.
What's so wonderful about "Zach Galifianakis" is how even one hundred episodes in, Comedy Bang! Bang! can still find fascinating and fun new ways to toy with its formula in ways that break from the norm. Even Galifianakis, who has now appeared on every single season of the show (and apparently will appear on the final episode as well) is utilized in a new way each time we see him. Comedy Bang! Bang! might not want to cut off another hundo, but if it does, it's unlikely it'll ever lose sight of the wit, craziness, joy and hilarious world that it's created, especially when it can restructure itself and constantly surprise its audience as it does here.
Ross Bonaime is a D.C.-based freelance writer and regular contributor to Paste. You can find more of his writing at RossBonaime.com and follow him on Twitter.