Chris Gethard's Fans Are Petitioning Disney to Release his Cut Iron Man 3 Scenes
Photos via truTV/YouTube and A. Bisdale/truTV
Comedy
Features
Chris Gethard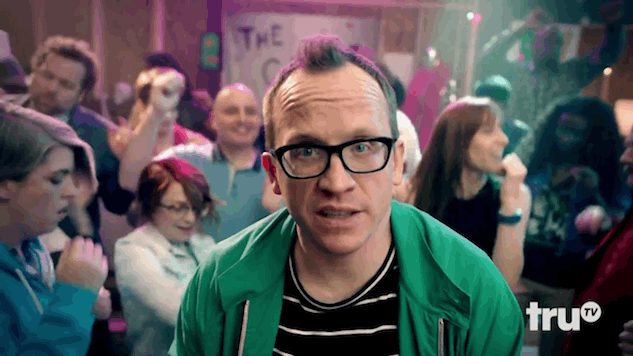 Iron Man 3, a movie I saw with my college girlfriend in an otherwise empty theater, apparently originally featured, in a small speaking role, the comedian Chris Gethard, perhaps best known for his small speaking role in The Other Guys (2010). As there is no justice in this world, not for comedians anyway, Gethard was excised from the final cut. The film went on to gross $409 million domestically and $805.8 million in the foreign markets, reaching a total gross of $1.2 billion. Today you can watch it for $2.99 on YouTube, Amazon Video and Google Play. I do not recall a single thing that happened in it, even as I can recite entire scenes of that same year's Captain Phillips.
As for Gethard, he's gone on to do great things, like put Paul Giamatti in a dumpster and employ someone called "The Human Fish." Still, he and his fans are haunted by the knowledge that his Iron Man 3 scenes are out there somewhere, buried in the great cutting room floor in the sky. So naturally one of them made a change.org petition asking Marvel to release the scenes before this month's premiere of Infinity War:
For too long, a crucial piece of the Marvel Cinematic Universe has been brushed aside and ignored. With Infinity War looming on the horizon, and our heroes gearing up to take on the mad titan Thanos, fans deserve a chance to experience the full, unedited version of the universe they've invested so much time and energy into.
Beloved character-actor Chris Gethard was slated to make an appearance in the 2013 film Iron Man 3, but his scenes were sadly left on the cutting room floor. We believe this to be afront [sic] to the larger canon of the franchise. How are we supposed appreciate 10 years of intertwining and overlapping storylines, if we don't have access to every available piece of content?
I don't mean to make any assumptions, but we're still unaware of the location of the Soul Stone — the final infinity gem – and Chris Gethard's omitted scenes could provide fans with the crucial information needed for finding it!
On top of all that, Chris Gethard is a lifelong Marvel fan. He doesn't like discussing this in public… but did you know he cried when The Multiple Man died?!
We request that The Walt Disney Company release Chris Gethard's Iron Man 3 scenes before Avengers: Infinity War premieres on April 27th, 2018.
A pretty reasonable, mostly coherent request, if you ask me! Sure, the odds may seem long, but when has the Gethard fandom ever shied away from long odds? We're talking about a guy who took his namesake variety show from UCB to public access to Fusion to truTV; a formal introduction to the Marvel Cinematic Universe is the logical next step.
When I asked Gethard what he makes of the petition—including what fans can expect from his cut scenes, and how Marvel's cold shoulder compares to any of the other rejections he's experienced—he told me in an email:
My role involved me playing opposite Don Cheadle. He was really nice. For part of it he had to put on his War Machine helmet, and it looked super uncomfortable.
As someone who started reading Marvel comics at age seven, the rejection from the Marvel universe stings particularly hard. I have been rejected thousands of times in my eighteen years doing comedy, but losing out on the chance to play this low level nameless scientist truly feels like the one that got away.
The most important aspect of this petition is that it also arbitrarily demands that all of Adam Pally's scenes be removed from Iron Man 3. Adam is a friend of mine and I don't want to see him sacrificed so that I might live to see another day. That being said, if that's what it takes then yes, I will throw my old friend Adam Pally right under the fuckin' bus.
And there you have it. This petition isn't just an opportunity to get a little more Gethard in the universe; it's also a chance to stick it to Adam Pally. Go ahead, give it a sign, and maybe check out Paste's most recent in-studio interview with Gethard when you're done.
---
Seth Simons is Paste's assistant comedy editor. Follow him on Twitter.