Chris Gethard Returns to Public Access Television, Brings His Favorite Young Comics with Him
Image via Manhattan Neighborhood Network/YouTube
Comedy
News
Chris Gethard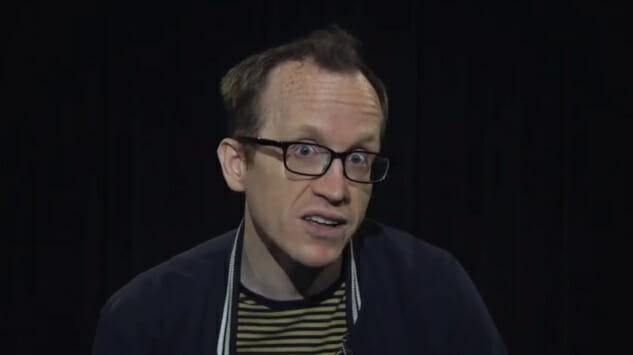 Almost a year ago, we mourned the loss of The Chris Gethard Show, one of the most unique presences on television across its storied seven-year run. The show had a particularly anarchic spirit, capitalizing on the freeform sensibilities of its humble public access television beginnings. Well, mourn no more—Gethard is returning to his former playground, the Manhattan Neighborhood Network, later this month.
The new program, called Chris Gethard Presents, seeks to recapture the experimental spirit of its forebear by opening the stage up to innovative new comedians. Per Vulture, Gethard describes it as follows:
Each week, I hand off a live hour of television to someone who I think is doing funny, unique stuff. Maybe the host is cut from an odd cloth and isn't getting that mainstream rub that they deserve. Maybe they ARE getting that momentum going but still need a home for their most experimental, batshit ideas. I want this to be the place where smart comedy viewers go to find that type of cool shit.
So, Gethard himself won't be on the show much, if at all. Don't let that disappoint you, 'cause he's already announced the early batch of performers taking the MNN stage, and they're all exciting up-and-comers in the comedy scene: Carmen Christopher, Christi Chiello, Martin Urbano, Rachel Pegram and Joe Rumrill are just a few of the names that Gethard has already announced.
In typical Gethard fashion, the show's announcement comes with a certain earnestness:
I think this is my opportunity to attempt building something that does for a lot of the people in the trenches of comedy now what the UCB Theater did for me 20 years ago: It will give them a chance to go up, follow their comedic instincts in their truest sense, and see what happens. If they succeed I hope they reap huge rewards. If it falls on its face, they're free to blame me.
Chris Gethard Presents will start its run on June 26. Watch a brief promo for the show below and check out our interview with him from January further down.