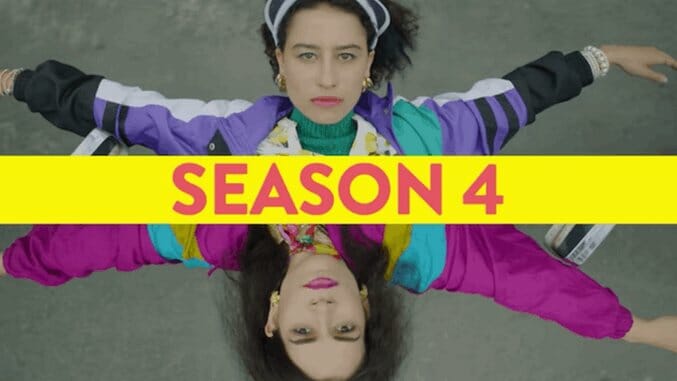 When Abbi Jacobson and Ilana Glazer's Broad City was a mere web series, the Wall Street Journal dubbed it "sneak-attack feminism." Now, going into its fourth season on September 13, the creators and stars say the jig is up.
"I think also, the world is changing too where we had to do sneak attacks early on when the conversation was 'Are women funny? Can women be hilarious or not so much?," Glazer reflected in a discussion with journalists during the show's Television Critics Association press day on Tuesday.
Thanks to Broad City and its peers, that conversation is more or less dead.
The stars add that conversations about feminism aren't something they were aware of when the show first hit the airwaves in 2014; they'd never had a TV series before, they noted, and were still figuring out how to use the tool. But those conversations have slowly crept into the dialogue of the series following their young and struggling New Yorker alter egos and their friends. The show even had Hillary Clinton as a guest star last season, airing at a time when reports argued that most millennials supported Bernie Sanders.
Plus—thanks, Donald Trump—social and political commentary is just par for the course now.
"Everyone is trying to be more vocal now, and informed, and we try to infuse that into the characters," Jacobson says. "The characters are trying really hard to be 'woke' and be involved in this and make things better and change things, but they also try and fail at stuff. They're imperfect. That's fun to play with that as well."
And, really, it would seem unnatural if these characters weren't talking about politics.
"Our show always exists pretty much in the present," Jacobson says. "It's still happening now with us, and we talk about politics. This is happening in the [fictitious] Abbi and Ilana's lives. This is existing. For us to not be talking about it as friends; this is insane and it would be wrong."
To wit: The sixth episode of the upcoming season takes on Trump, but the creators have decided to treat him like an FCC violation—they'll bleep out his name any time it's spoken.
"We just got to a point where, in real life, we're talking about the current administration and we're talking about Trump and it sounds so gross, like every day, saying it so much," Glazer says. "We just didn't want to share air time."
Both actresses have been nude on the show, making use (and a mockery) of the blurred body parts stipulations that come with being on basic cable.
"We are censored in certain ways on the show and it ends up being a big part of our job" when it comes to compliance with the network's Standards and Practices guidelines, Jacobson says. "What can we show? What can we say …"
Now, even something as innocuous as the characters' pot smoking habits contains social commentary. Evoking a new take on the Bechdel Test, Glazer points out that this is one of the few shows where two women can light a joint they didn't score from a boyfriend. As for the criticism that teens may be watching them do it, she says likes that "the girls are using responsibility," and references an episode from the second season when Ilana "literarily drugged" Abbi to aide in the recovery of her wisdom teeth removal, but she "was watching [her]" when she was high.
"[The drug use] stemmed from Ilana and I smoking pot and everyone we know smoking pot and it's not such a big deal," Jacobson says. "In that sense, we're just trying to represent what we know about our lives."
Jacobson adds that it "isn't like we're putting mission statements on the [writers' room] board." The season opener is a flashback to 2011, when the duo first met; an "origin story" so to speak, says Jacobson—both of "Abbi and Ilana, but also of Abbi and Bevers," John Gemberling's always present boyfriend of her always absent roommate.
If they have any overall mission statement, Jacobson suggests, it's a pretty basic one: "The first thing we think about the show is the funny."
---
Broad City begins its fourth season September 13 on Comedy Central at 10:30 PM ET/PT.
Whitney Friedlander is an entertainment journalist with, what some may argue, an unhealthy love affair with her TV. A former staff writer at both Los Angeles Times and Variety, her writing has also appeared in Esquire, Elle, Complex, Vulture, Marie Claire, Toronto Star and others. She lives in Los Angeles with her husband, son and very photogenic cat.