Return to Broad City in First-Look Clip from the Series' Fifth and Final Season
In which Abbi and Ilana plot a Manhattan-spanning 30th birthday party
Photo by Cara Howe
Comedy
News
Broad City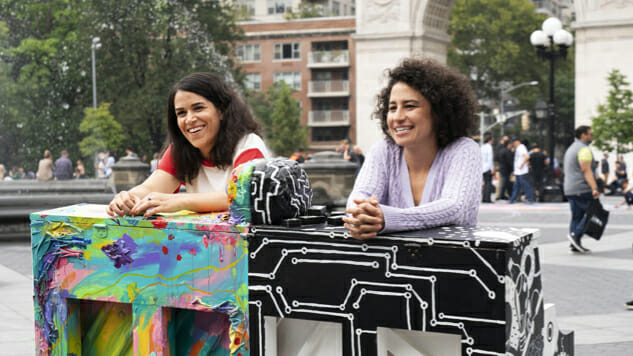 Broad City returns to Comedy Central for its fifth and final season later this month, and the network has rolled out a first-look clip from Abbi and Ilana's new set of (mis)adventures. The clip finds the show's titular broads hyping up Abbi's 30th birthday, which they plan to celebrate by traversing the entire island of Manhattan, for some reason.
The first-look video—and season five's entire premiere episode, according to Comedy Central—is presented as a social media story recorded on Ilana's phone, using an Instagram-esque app that either doesn't exist, or is so cool that we don't know about or recognize it yet. Ilana promises the "littiest" story ever in honor of Abbi's dirty 30 and the duo show off their "workout chic," which includes a pair of discounted shoes we can only imagine Ilana will swiftly come to regret after embarking on this celebratory trek.
Broad City, created by, written by and starring Abbi Jacobson and Ilana Glazer, has had a great run, growing from a humble sketch-comedy web series into an acclaimed Comedy Central hit we numbered among the best TV sitcoms of all time back in 2016. We'll hate to see it go, but love to watch it leave.
Thankfully, Jacobson and Glazer's first-look deal with Comedy Central parent Viacom, announced alongside Broad City's end last April, means we'll be seeing much more from the duo. Last we heard, they had three projects in development at the network, including animated comedy Mall Town USA, Eliot Glazer-starring dramedy Platinum Status and political coming-of-age tale Young Professionals.
The premiere episode of Broad City's fifth and final season airs Thursday, Jan. 24, at 10 p.m. ET/PT on Comedy Central. New episodes of Broad City will lead into The Other Two, a new half-hour scripted series.
Watch the first-look clip below and revisit Paste's fall 2017 interview with Broad City's stars while you're at it.