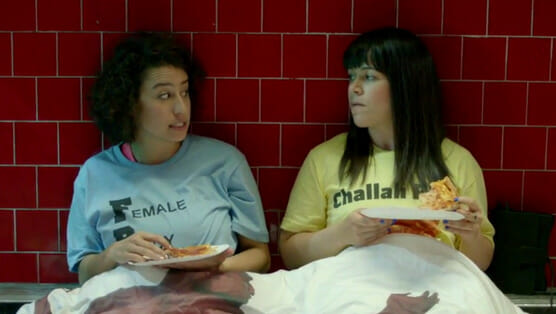 It's hard (and kind of sad) to believe, but after just a few short months, season two of Broad City is already over, ending on a remarkably familiar note.
From the very beginning of "St. Mark's," it's clear that the episode is meant to serve as a companion piece to season one's "The Last Supper." Just like last year's season finale, the episode starts with the girls heading out for a special birthday dinner—a celebration that ends up being a complete disaster.
Of course, since it's Ilana's birthday this time, their destination is a funky dumpling spot in St. Mark's instead of a fancy restaurant, but after a run-in with the world's worst friend couple and a fauxhemian panhandler, things turn out pretty much the same, with two best buds playing a silly conversation game on the streets of New York.
In the end, Broad City seems to be reminding us, this show is really about the wonderful friendship these girls share. That generally contemplative tone was further aided by the looser, more naturalistic feel of this week's episode, which brought Abbi and Ilana's relationship front and center.
Like last year's "The Last Supper," I found "St. Mark's" to be a fitting, but not especially funny, season finale. The episode's leisurely place just left a lot less time for the killer jokes I've come to expect each week. It's hard to stay upset, though. After another hilarious season, Broad City has probably earned a victory lap.