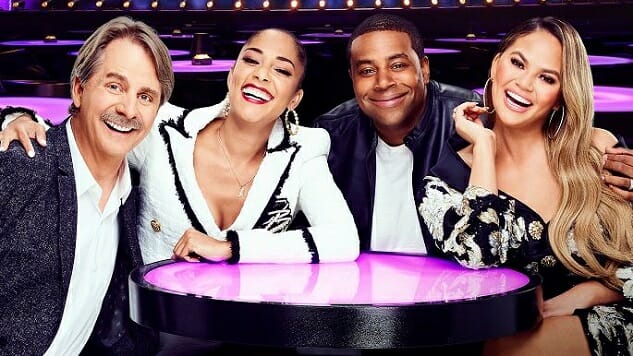 NBC's jumping back into the comedy competition racket with Bring the Funny, a new show that premieres on July 9. It's got a line-up of judges who each excel at a different type of comedy, from stand-up to sketch to, uh, tweets, and together they'll help introduce prime time network TV viewers to the next stars of comedy.
Since you can't have a TV show without ads for a TV show, NBC's whipped up a couple of key art images for Bring the Funny to show off its judge line-up and totally reinforce that old-school comedy club vibe that people still associate with stand-up. We're talking a stage, with footlights, and a wall that might be bricks or maybe some kind of wood paneling, and a big old neon sign buzzing with the show's name. It's also got those round tables that every club seems to use for you to put your mandated two drinks (at least) on. These posters scream "COMEDY!" which makes sense for a show that's all about comedy.
Oh, also Kenan Thompson's there. We love Kenan Thompson, and not just because he's from Atlanta. Jeff Foxworthy's also from Atlanta, which means half these judges are from Atlanta. That's probably an aspect of the show that won't be pointed out enough by the national media, so let Paste be the first to hammer that home: half of these judges are from our home town, and that really means a lot to us. Thank you, Kenan, and God bless, Jeff.
So here's that key art. It comes in not one but two different formats. One's longer than it is tall, and the other is taller than it is long. There are probably names for those shapes but this is a comedy section, not a shape-naming section, so you couldn't possibly expect us to know them. Forget about such trifling matters and gaze upon the beaming visages of the judges of Bring the Funny—they might not all be from Atlanta, but we can forgive the show that major transgression.
Bring the Funny premieres on NBC on Tuesday, July 9.