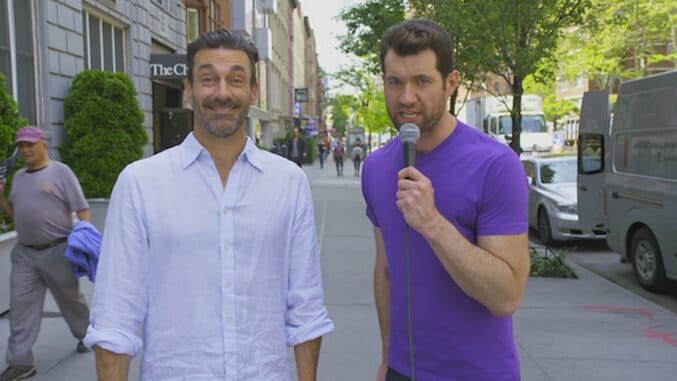 Billy Eichner is back on the street with the spiritual sequel to "Would You Have Sex With Paul Rudd?" This time, Jon Hamm is in tow, as he and Eichner play "Would You Have A Threesome with Me and Jon Hamm?"
The duo have a less than successful time convincing others to participate, getting turned down by faithful wives, a woman who doesn't know who Billy is, and a woman who doesn't think Hamm's Emmy win is impressive enough. Jon Hamm, proving what a good sport he is, suggests imagining him from 2009 when Mad Men was at the height of its buzz, but the entreaty falls on deaf ears.
The fifth season of Billy on the Street premieres on Tuesday, Nov. 15 at 10:30 p.m. EST on TruTV. You can watch Jon Hamm and Billy Eichner accost people on the street for sexual favors in the video above.