Ben Schwartz Turns Improv into a Must-See Experience with Ben Schwartz and Friends
Photo by Gilbert Carrasquillo / Courtesy Getty Images
Comedy
Features
ben schwartz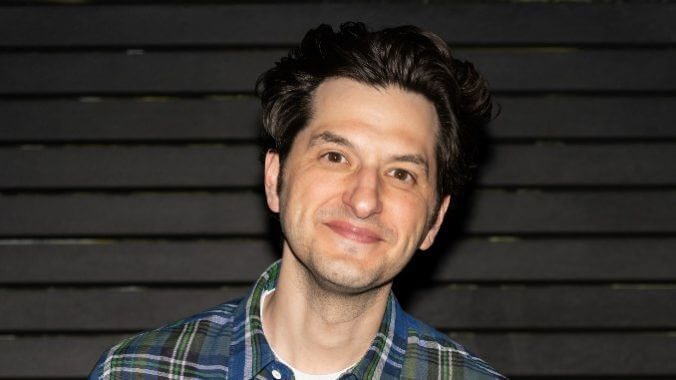 Improv comedy is a punching bag's punching bag. It evokes amateur college troops, awkward silences, forced questions asked to the crowd. Even at its best with a group like UCB, every show has the possibility of being the cringiest hour of your life. After watching one show with a friend she described it as "surprisingly funny for improv." To pull off an improv performance you can't just be funny; you have to have that perfect mixture of natural charisma and the ability to know how to make a good show around a dismissed medium.
Enter Ben Schwartz. The performer best known for his role as Jean-Ralphio on Parks and Recreation and as the current voice of Sonic the Hedgehog has been an improv fixture for years. He started at the UCB Theater and went on to win an Emmy and appeared in dozens of different films, TV, and various other online projects. But Schwartz's best ability as a performer isn't seen on a screen; it's on display in his exquisitely executed live improv shows.
The best introduction to Schwartz's long-form improv can be seen in the Middleditch and Schwartz Netflix specials. Alongside Silicon Valley actor Thomas Middleditch, he performed three hour-long shows that were entirely improvised. The idea for the show comes from a brief discussion with an audience member or two at the start after asking the crowd for a prompt. Once the conversation is over, an entire performance is made up out of thin air.
I saw a recent run of Schwartz's show at the Largo at the Coronet in Los Angeles. Schwartz has been a fixture at the Largo since 2016, performing Ben Schwartz and Friends frequently there save for the occasional pandemic. The production also tours around the country throughout the year. The format is the same as Middleditch and Schwartz, except with a larger cast of performers. A question is posed, a brief conversation is had, and then they're left to their improv devices. Many titular Friends reappear such as Gil Ozeri (Big Mouth), Colton Dunn (Superstore), and Drew Tarver (The Other Two). Sometimes a new element is thrown in, such as at Schwartz's November 5th show where improv newbie Joe Keery was thrown into the fire (a revival of a previous Schwartz improv experiment).
At the start of the show Schwartz describes the performance as a "show that disappears." In a way all live shows disappear once you leave the venue, but Ben Schwartz and Friends is different. There is nothing put to paper, no way to prove any of the jokes that had you and your friends crying laughing except for your shoddy memories. The scenarios in the show get so wild that trying to describe a bit to someone makes you sound absolutely insane. Ben Schwartz and Friends is the best example of "you had to be there" that you will ever be a part of.
And unlike most other improv shows, Ben Schwartz and Friends is a full experience. It's an entire comedy story told in the same length as a standard stand-up special. It doesn't just feel like watching a series of scenes. Plotlines are woven together, characters are forged and forgotten, and a call back to a joke from 30 minutes ago is more satisfying than any carefully worded punch line.
But the most impressive thing Schwartz pulls off in Ben Schwartz and Friends is breaking open the potential of improv. The show doesn't feel like an exhibition; it wraps the audience in. Schwartz manages to break the wall between audience and entertainer. It's not parasocial, but the result of an incredibly skilled live performer. The crowd is in on the joke. While watching you can't help but try to think of something to add. It's chaos by design, kinetic and joyful. Schwartz levels the field by putting himself and his audience on the same team.
The critical flaw of many improv shows is when it's just watching a group of friends try to be funny. Ben Schwartz and Friends feels like being a part of a group of funny friends. It's hanging out with that gang you joke with effortlessly. The spontaneity, that excitement when you know you struck comedy gold and everyone is adding to the pile. The audience doesn't behave the same as they do at a stand-up show, waiting for a punchline or a great delivery before erupting in laughter. The audience at Ben Schwartz and Friends is laughing almost continuously throughout the show. There isn't a time for a joke and a time for reaction; it's all just one experience.
Schwartz's show has an incredible benefit built in: its variability. Every single performance is different. You can go to two shows in the same night, get the same performers, and walk out with entirely different comedy experiences. Stand-up comedians are tied to the shows they spend months or years perfecting. You might get some slight variations, but if you see John Mulaney in March and then again in October you will get basically the same show. Ben Schwartz and Friends has the ability to be one of the best tours a comedy lover can catch. He can perform in the same venue almost every month for years and still pack the house with the same people (as he does—his Largo shows sell out almost instantly).
Improv comedy is hard. Even some great performers and comedians can't master it. Schwartz isn't just good at improv; he's able to craft a must-see experience around the art. Leaving his show and trying to unpack the chaos with your friends is just as joyous as the performance itself. Ben Schwartz and Friends leaves you buzzing, the energy he and his friends bring is infectious. But most impressively he shows the possibilities of improv as a medium. It can be better than "surprisingly funny." It can be the funniest show you see all year. But if you really want to be in on the joke, you just have to be there.
---
Leila Jordan is a writer and former jigsaw puzzle world record holder. To talk about all things movies, TV, and useless trivia you can find her @galaxyleila.