Obama Discusses His "Dad Moves" In First Clip from David Letterman's New Netflix Series
Photo courtesy of Netflix
Comedy
Video
Barack Obama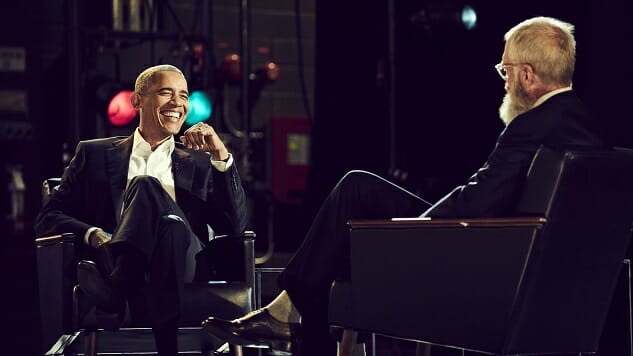 Barack Obama makes his first late night talk show appearance since leaving office this Friday night, when the first episode of My Next Guest Needs No Introduction with David Letterman premieres on Netflix at 12:01 AM PT. Today Netflix released a clip from the interview where Obama talks about his "dad moves" while dancing on stage with Prince. Check out the video above, or read a short transcript below if you haven't pivoted to video yet in your own daily life.
Letterman's new talk show will premiere a new episode every month with a long-form interview with one guest. The first six episodes feature Obama, Tina Fey, Jay-Z, George Clooney, Howard Stern and Malala Yousafazi.
Some expect the show's reception to be a sort of litmus test for how pre-Weinstein sexual predators will be treated in a post-Weinstein world—after a failed blackmail attempt in 2009, Letterman revealed a series of sexual relationships with staffers and interns on his show. There have been no public accusations of pressure or harassment from any of those partners, but the nature of the power dynamics between a boss and their employees naturally raises questions about any such sexual relationship. It remains to be seen how much attention Letterman's return to the public eye will bring to this almost decade-old scandal, or what any such reappraisal might say about how society will judge situations like these.
Here's that transcript, by the way!
Transcript:
Barack Obama: This was probably three or four months before he died and Prince asks Sasha to come up and dance, and she's an excellent dancer. Then Sasha pulls me up, which surprises me because she always mocks my dancing, but, I have dad moves.
David Letterman: Yeah.
Barack Obama: And I think the key is, is what we call staying in the pocket.
David Letterman: Sure. Staying in the pocket.
Barack Obama: So, you've got to stay in the pocket. Because I think everybody in here knows dads who get out of the pocket. And they're trying stuff that they can't really pull off.
David Letterman: Yeah, yeah.
Barack Obama: And you know, they start doing like karate kicks and all kinds of stuff.
David Letterman: Really? Karate kicks?
Barack Obama: Is that one of the things you do?