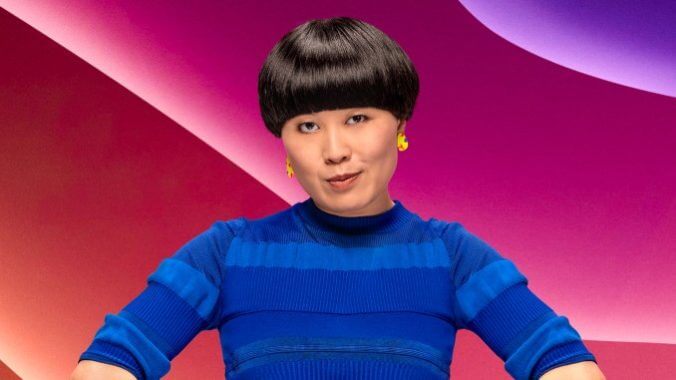 Even if you're not a comedy fan, you've likely seen Atsuko Okatsuka in one of her delightful videos on social media, sporting her chic, distinctive bowl cut and twerking alongside her Grandma Li. The Los Angeles-based comedian often shares clips of herself dancing with her grandmother or her husband, even inspiring the viral #dropchallenge on TikTok in early 2022.
Her debut comedy special, The Intruder, proves just as kinetic and entertaining as Okatsuka's dance videos. She makes stand-up seem like a sport, going beyond standard physical comedy and using her whole body to tell a story against a bright, candy-colored backdrop. Okatsuka does a herkie, drops dramatically to the floor, and reenacts her husband's butoh-like defense of their property, and that's just for starters. These choices bring a joy to the special that stand-up can sometimes lack.
Throughout most of the hour, Okatsuka radiates a nervous energy that amplifies her jokes. You really believe that Okatsuka is intimidated by her teenage cousin (and honestly, youths scare me, too), her voice quivering as she recalls being asked, "You skate?" Her style—equal parts excited and anxious, without being exhausting—keeps the momentum of The Intruder up, evoking that particular type of millennial panic that colors everything around it. Her delivery is not only effective, but also feels extremely relatable.
Funnily enough, that slightly jumpy edge to Okatsuka's performance seems to put the Brooklyn audience at ease. Her crowd work is especially fun and inventive, as she asks people to grasp her hand to sell a moment, or for suggestions on how to use weapons at her disposal (shovel, fire extinguisher, and kitchen knife) to fend off the titular intruder. These moments also highlight Okatsuka's talents as an improviser, with her riffs on these unscripted interactions getting just as many laughs as her prepared material.
Okatsuka's sharp writing skills complement her crowd work. The special is neatly structured around the story of the intruder coming to Okatsuka and her husband's home, with plenty of deviations into subjects like pandemic hobbies, the mall as an egalitarian utopia, and Magic Mike Live. She touches on more serious topics like her mother's schizophrenia and living in the United States undocumented, but her ebullience shines through even then. Her jokes are wacky, showcasing Okatsuka's playfulness and always unpredictable creativity. The Intruder boasts back-to-back jokes, and it's a credit to Okatsuka's writing prowess and performance style that it never feels overstuffed. The hour comes to a satisfactory ending that I won't spoil, but feels like a gymnast perfectly sticking the landing after a dazzling routine. Charming and well-crafted, The Intruder is a rollicking good time.
---
Clare Martin is a cemetery enthusiast and Paste's assistant comedy editor. Go harass her on Twitter @theclaremartin.