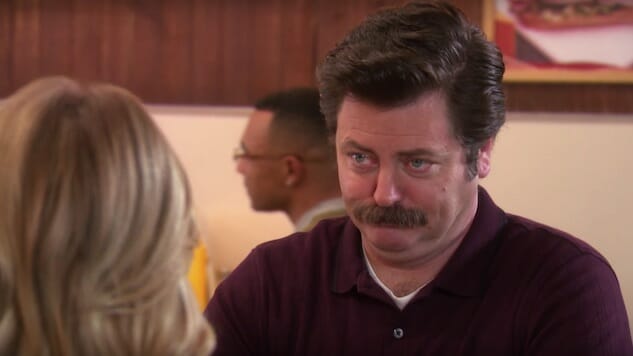 It's been a whopping four years since the NBC comedy Parks and Recreation finally closed up shop in 2015. But while fan favorites from the bright-eyed Wonder Woman of Pawnee Leslie Knope and the darkly weird April Ludgate to the dorky Ben Wyatt and the golden retriever-esque Andy Dwyer have ridden off into the sunset, one character's legacy lives on.
That character is the classic libertarian curmudgeon Ron Swanson, and his real-life counterpart, the father of engineer and Twitter aficionado Kane Hsieh.
As the rest of us posted sappy, cliched Father's Day posts, Hsieh introduced the world to his father, the "Asian Ron Swanson," in a viral Twitter thread.
"This Father's Day, I compiled the most on-brand anecdotes of my dad, who is basically an Asian Ron Swanson," Hsieh tweeted, kicking off a 24-tweet thread of hilarious and genuinely tender moments.
A meat-loving, cleaver-wielding military scout-turned-federal government engineer, Hsieh's father visiting the fish he'd eaten (or aspired to eat) at aquariums, turned the garage into a meat locker, infiltrated frat parties for free light beer and fed peanuts to swarms of asshole bluejays, among other endearingly Swansonian escapades.
Hsieh closed off the thread with a tweet that read, "Anyways there are an endless number of these anecdotes, but point being, thanks for everything dad. I think."
End/ Anyways there are an endless number of these anecdotes, but point being, thanks for everything dad. I think. pic.twitter.com/Yn0QBNCCZ2

— Kane (@kane) June 16, 2019
Check out the full thread for yourself below.
In celebration of #FathersDay, read up on the legend of "Asian Ron Swanson." (h/t @kane) https://t.co/Aq0DNEpYa1

— Twitter Moments (@TwitterMoments) June 16, 2019
And of course, the thread has the coveted approval of Nick Offerman, the actor behind the fiscally savvy, all-American Ron Swanson.
This thread is very good. https://t.co/XQKCf1ljQf

— Nick Offerman (@Nick_Offerman) June 17, 2019
The Asian Ron Swanson himself, meanwhile, responded to his new viral status with a simple tweet to his son: "Thanks for making me famous."
Update: dad appreciates all your love.

Had to delete #14 for professional reasons. pic.twitter.com/UqDQtbpRBo

— Kane (@kane) June 17, 2019
And since Twitter demanded more Asian Ron Swanson content, Hsieh gave us a few more endearing anecdotes.
My dad once spent a year trying to dry a gourd so he could have a sweet gourd bottle for booze like sages in ancient Chinese paintings pic.twitter.com/QFtoFYsL3b

— Kane (@kane) June 18, 2019
But an unfortunate update on the asshole bluejays: they decided not to come visit our now beloved Asian Ron Swanson this year. Maybe next time.
An update to the blue jays: pic.twitter.com/AVRuVYf8Rd

— Kane (@kane) June 17, 2019