Netflix Just Confirmed a Fifth Season Of Arrested Development Is Coming in 2018
Photos by Sam Urdank/Netflix, Adam Taylor/Netflix
Comedy
News
Arrested Development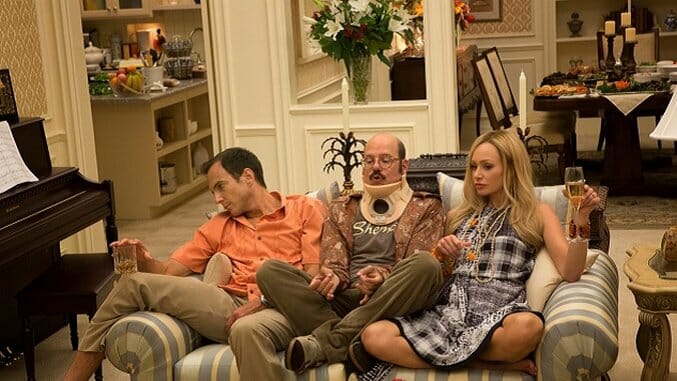 After several months of rumors Netflix has confirmed its order of a fifth season of the cult-favorite show. Making this news even sweeter is that the entire cast will be back for the fifth season, including Jason Bateman, Michael Cera, Jeffrey Tamor, Jessica Walter, Will Arnett, Tony Hale, Portia de Rossi, David Cross and Alia Shawkat. Creator Mitchell Hurwitz is also on track for the new season, which will begin production on new episodes sometime in July and premiere on the streaming giant in 2018.
Producer Brian Grazer recently teased the show's return, and Jeffrey Tambor accidentally let the news slip on Today back in September, when he mentioned "go[ing] to work [in] January." We reported on the slip before clarification from Tambor that he meant Transparent. Bateman also tweeted a week before the official announcement that he had closed a deal to film more episodes of the show. Netflix chief content officer Ted Sarandos has always promised to bring back one of his favorite shows, making this announcement one anxiously expected.
"Arrested Development brings us structures, outerwear and choreography like no other comedy in history," said Sarandos. "Season 4 marked the first foray by Netflix into original comedy programming and this time, the Bluths will collectively be spending more quality time with their millions of fans around the world."
Fox Television Group Chairmen and CEOs Dana Walden and Gary Newman commented:
It's a testament to the brilliance of Mitch's creation, the passion of his audience, and the love his cast holds in their hearts for his writing and characters that we have been able to 'get the band back together ' not once but twice since the Emmy-winning original run. Get ready, America. The Bluths are coming back.
If you've since forgotten, the comedy follows Michael Bluth (Bateman) and his wholly narcissistic, erratic family comprised of his son George Michael (Cera), his father George Bluth Sr. (Tambor), his mother Lucille (Walter), his brothers George Oscar Bluth II (Arnett), Buster Bluth (Hale) and sister Lindsay Funke (de Rossi), Lindsay's husband Tobias (Cross) and their daughter Maeby (Shawkat).
The show originally aired on Fox from 2003-2006, and won an Emmy for best comedy series in 2004. The first Netflix revival, giving fans a fourth season in May 2013, was not quite as acclaimed as the original show, mainly due to the show's filming schedule, which only saw the stars film together one day due to their already-full schedules.
However, creator Mitchell Hurwitz is doing it right this time by assembling the whole cast for the full duration of filming, promising an even better season chalked full of absurd plot lines and intensely dark and quick-witted humor the show is known for.