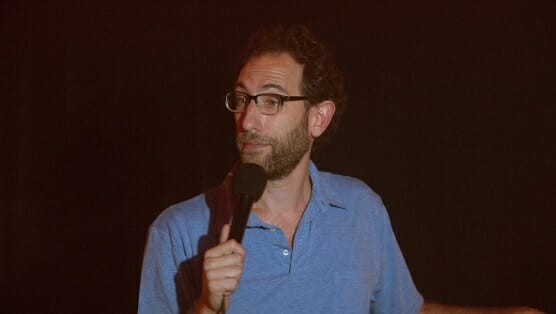 This is basically Ari Shaffir month at Comedy Central. His storytelling show This is Not Happening makes the jump from the web to basic cable next week, and his new stand-up special Paid Regular premieres tonight. I've never seen This is Not Happening before, but hopefully the stories he tells there are better than his material in Paid Regular.
His stand-up isn't awful, but it feels safe. Even when he's trying to shock, which is too often, it comes off as a very calculated and familiar kind of shock, like it's supposed to be transgressive somehow to talk frankly about sex or drugs or to be glib about racism. Did you know men like blowjobs? And that they're often selfish and don't like going down on a woman in return? Earlier he jokes about the cock and balls being a delicacy for zombies, and at least that bit of gross-out humor has a nice twist with the victim enjoying it at first. Shaffir jokes about not hating racism but the unoriginality of racism—similarly, I don't hate all shock comedy, just when it's unoriginal.
It is weird when the most genuinely shocking part of the show, something that provokes an audible negative reaction from the audience before reluctant laughs, is when Shaffir uses the word "retard." It's shocking how quickly that word has become absolutely unacceptable. Even ten years ago he wouldn't have gotten that reaction, even though calling cerebral palsy victims the "kings of the retards" would be shocking even if the R-word hadn't become verboten. This bit is probably the edgiest Shaffir gets, and also the closest his "shocking" material came to making me laugh. It wasn't that close.
His best stuff comes when he puts down the "say anything" front and talks about stuff that seems important to him. Mushroom jokes are as tired as anything else, but Shaffir's material about taking drugs while camping comes from a place of personal experience. He's an amiable comic when he wants to be, assertive and confident but not overbearing, and it comes through in moments like this.
The highlight is when he talks about how the Ten Commandments make God seem super insecure and paranoid. He points out how the first three Commandments basically all say that God is the only God and you shouldn't look for any others, making hilarious observations that dig down into the roots of our society. It's good, inspired stuff, and unfortunately there's another half-hour of lesser material following it.
Shaffir has great stage presence and a conversational style that should be a good fit for the storytelling nature of This is Not Happening. He doesn't seem like he's performing most of the time, which is hard for a stand-up to do. But it's 2015 and he's still telling jokes about Marion Berry. The TSA is the 21st Century equivalent of airline food. This is the second stand-up special I've watched in a week where the comic tells a long story about farting on people. Shaffir is a good storyteller, but his jokes are a drag.
Ari Shaffir: Paid Regular airs on Comedy Central on January 16 at 12 AM / 11 PM CT.
Garrett Martin edits Paste's games and comedy sections. Follow him on Twitter.