Anthony Jeselnik to Interview Nick Kroll, Kumail Nanjiani and More on His New Comedy Central Show
Good Talk with Anthony Jeselnik debuts in September
Image via Comedy Central
Comedy
News
Anthony Jeselnik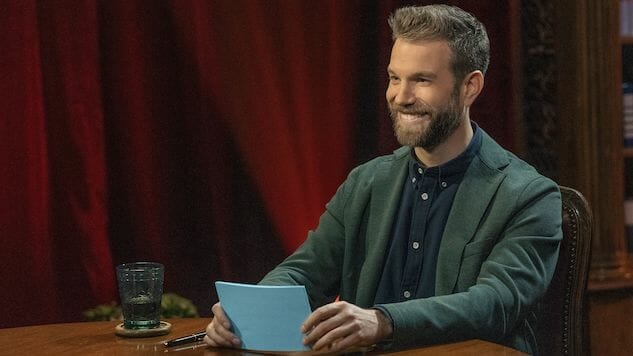 Stand-up comedian Anthony Jeselnik is headed back to Comedy Central with his newly greenlit show, Good Talk with Anthony Jeselnik.
The show will run six episodes and is set to premiere on Sept. 6 on Comedy Central. The series revolves around Jeselnik sitting down and talking all things comedy with some of the best in the business, which happens to include some of his friends. Jeselnik will sit down with Nick Kroll, Tig Notaro, Kumail Nanjiani, Natasha Leggero, Kristen Schaal and David Spade.
"In Good Talk, Jeselnik switches gears from his signature acerbic style for tongue-in-cheek interviews with his fellow comedians about their careers, influences and what it's like to live in his massive shadow," a press release explains. "Jeselnik and his guests center their extremely funny conversations around stand up, stories and bits and participate in elegantly bizarre studio segments."
Christie Smith and Meaghan Rady are set to executive produce the talk show, and Rady will also act as the showrunner. Anne Harris, Tara Schuster and Jackie Sosa are in charge of the series for Comedy Central.
The show isn't the first time the former Late Night with Jimmy Fallon writer has worked with Comedy Central. As part of a multiplatform deal with the company, The comedian has worked with Comedy Central on the Jeselnik and Rosenthal Vanity Project podcast, as well as collaborating on two seasons of The Jeselnik Offensive and his 2013 special Caligula.
Other than his work with Comedy Central, Jeselnik has recently had two Netflix stand-up specials, including 2015's Thoughts and Prayers and 2019's Fire in the Maternity Ward.